I own, tune, live and breathe this bike.
I dont think you will find another supplied out there who puts as much time, money and effort into bringing out the very best parts for this fantastic scoot.

Right onto the stuff,
Take a look, theres some seriously nice parts here, remember im not a 5 minute seller, i have been here a long time and will be here for much longer.
Im just advertising on here to save the confusion with my unfinished site
Samuraiscoot shop 2010
Well its a new year so i decided to refine the shop on the forums, i was doing the website but it keeps crashing and acting all weird thanks to the flash programme....
For those of you who dont know us:
We have been tuning the BWS-125/Z-125 since its introduction on the taiwan market over 18 months ago, We are dedicated to the Z-125 and as such we are the only dealer/seller online that has these parts.
If its not made by somebody else we make it and we only pick the very best parts in taiwan.
Our prices are due to us being based in scooter kingdom (taiwan) and we try my best to keep overheads down.
When it comes to performance we can proudly say nobody compares, we refuse to sell cheaper higher profit items.
Prices are without shipping, we take paypal as payment:
sales@samuraiscoot.com
Ok lets start with the most popular items,click to view larger picture.
RRGS CVT kit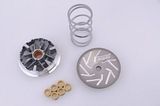 I personally have tried to ditch this set for over a year, but i just cant find anything better for the money.
It scales so well with the stock engine all the way to the 272cc engine, its just perfect in everyway and very good value.
I cant see us replacing it any time soon!.
Comes supplied with 10g rollers to maximise acceleration for the stock 125 bike, if you want higher top speed please use the stock rollers from your scooter.
Rollers are a tricky subject, fine tuning is required to get the perfect setup, as such its recommended you buy roller sets so you can experiment for the perfect setup that suits you.
In the package:
Complete variator (CNC machined and lightweight)
1500rpm torque spring
high quality 10gram rollers
PRICE: $110
KOSO Clutch kit
The best clutch availible and now sadly out of production, i have around 10 left in stock so hurry!.
Not really needed with the stock bike though it does give a better take off, when installing a big bore kit its a requirement as the stock clutch and bell cannot handle the power and start to overheat and fade after multiple standing starts.
Comes with a laser etched vented and grooved bell (picture is without lasered logo
)
In the package:
Koso clutch with adjustable spring tensioners
3 sets of springs (1000,1500 and 2000rpm)
12 sets of weights
3 allen keys
Samurai vented bell
PRICE: $135
Samurai 155cc kit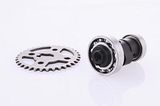 This is the complete kit needed to convert your 125cc zuma into a tarmac ripping 155cc beast!.
Ok that maybe a little overkill but the difference to stock is so big it will have you grinning ear to ear.
Unlike other 155 kits we supply you with EVERYTHING, no extras are required to get the engine running, no check engine lights and it will start on the button everytime like stock.
To get the best results you need the cvt and clutch kit and some kind of aftermarket exhaust, though stock will work fine.
In the box:
Samurai forged piston with anti-slip coating
Super strong piston pin
Quality piston rings
Laser cut gaskets
High lift cam with japanese cartridge bearings
Lightweight cam pulley
10 hole injector
PRICE: $355
Cygnus gearing kit
OEM yamaha gearing, 2 teeth higher than the Z-125 allowing a higher top speed.
Results may vary depending on your setup but 4mph+ is about right.
Bottom end is 99% as punchy as it was stock so its a good upgrade.
PRICE: $45
Samurai 32mm or 36mm CNC throttlebody
For use with the 155cc and above engine kits only!.
8mm (12mm for the 36mm!) larger than stock allowing for alot more air to be sucked into the engine, the bike is much faster from idle and allows a higher top speed.
Its also smoother than stock.
You will be required to use a TORX screwdriver and remove the fittings from your original throttlebody.
PRICE: $290
BWS-125 front light kit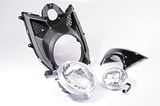 Everything needed to convert your US spec zuma to a asian spec BWS-125!.
Lighter than the stock front end and also more aerodynamic.
In the box:
Front fairing piece
Chest piece
Main light housing
Aux light housing
H4 light bulb and T10 aux light bulb
PRICE: $110
NCY front fork conversion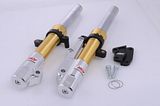 Slides right in place of your stock forks.
Much firmer damping and lighter.
Stock brake system and speedo drive fit directly on.
Gold colour only
PRICE: $260
Samurai-X rear shocks
Preload, compression and rebound adjustment!.
Much firmer than stock with a large range of adjustment.
Beautiful CNC finished head, nitrated stanchion and progessive spring.
Specially designed with the western framed rider in mind ;-)
Red and gunmetal only at this time.
PRICE: $375
BWS-X swingarm
From the new BWS-X this lightweight swingarm bolts right in place of the old steel one.
Lighter, better looking and cheap!.
PRICE: $80
RPM 12'' 10 spoke rim set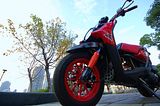 Lighter, sexier and comes with a free cygnus gearing upgrade.
Comes as a pair.
Can be painted for an additional $35.
supplied in silver.
PRICE: $450