I have been going back and forth on whether or not I would post any of this build, just because of the sheer amount of effort needed to share all of the pix, but figured since some may want to do the same thing, I would share to help out anyone stuck. So a little background information so you know what you are getting into before you start scrolling down and you say wtf this is going to kill a few hours or 15 mins...as I am starting off with a ton of pix and I am not at this point done, but hey who doesn't like pictures right? I diagress....back on topic....I have always wanted a Ruckus (except when they 1st came out because those things were a fugly fiddy 4 stroke and I was all about 2 strokes since it was like 40 years ago and 2 strokes were king....(yeah I know it was only a decade ago, but I am old and ten years feels like 40)
So as the years progress and I channel my inner lowrider-ican I really liked what was going on in the Ruck world. I set out to find one, only to run into dead end after dead end followed by broken promises and dreams of grandeur until one fell into my lap. I had already made the jump into 4-stroke hyper space with my z125 that I built the motor up to hit 70mph which is fast enough as top speed isnt everything since this is my primary steed anymore and I need to get in and out of traffic without worring of having an uncurteous driver up my exhaust. I decided it would be best of both worlds if I would have the reliability of the Yamaha but had the lowrider prowness of the Ruckus. I checked around and saw a few guys made the swap and figured what the hey why not. I have a pretty functional fab shop on the side, so I was able to buy the frame off a friend that was local as he was jusat going to part everything anyways since it wasn't running. Here it is in the back of my truck as I picked it up to disassemble for him:
and on my work table:
then 12 seconds later or what seemed like it as remember I am old:
i like the front end off the z125 and wanted to see how hard it would be to swap it over to the ruck as the honda is all girlie and I am all old and manly:
and then some grinding and some press love, the z125 was not at all friendly but the Ruck said pop when it just saw the press:
since the Ruckus stem is much smaller, I had to add some weld to it:
and then some more:
then some lathe love to get it back down to the correct size to the z125 lower triple:
pressed it back in and a little weld, and I am all manly again: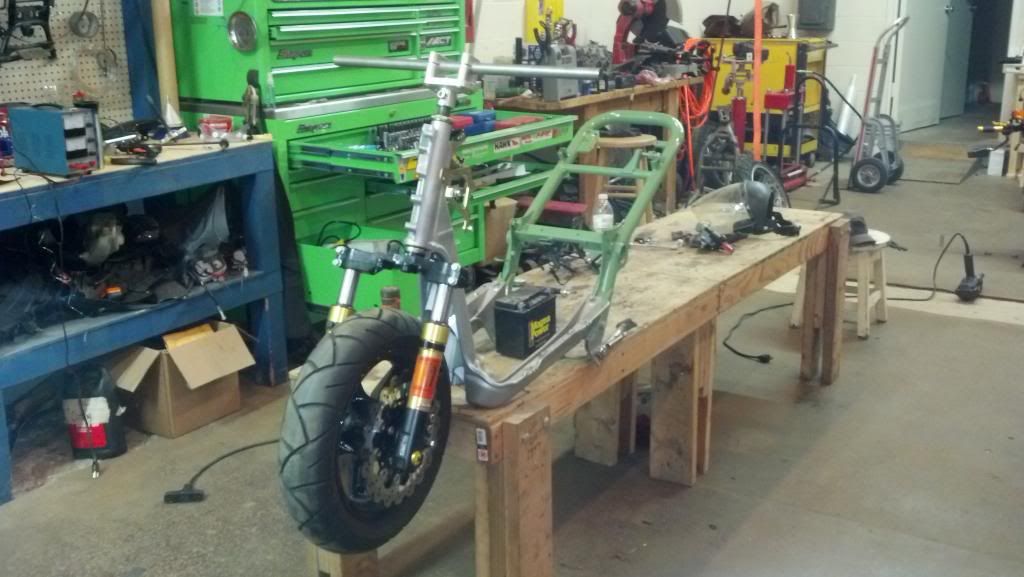 time to get it ready for a z125 transplant:
and here it is:
and here is the lonely z125 frame:
and on the work bench to see what it will look like:
a little tail action:
I then decide to fab up a motor mount and since I built this neat little hydraulic pipe bender and I had a bunch of 7/8 stock, I thought why not make a trellis frame mount?: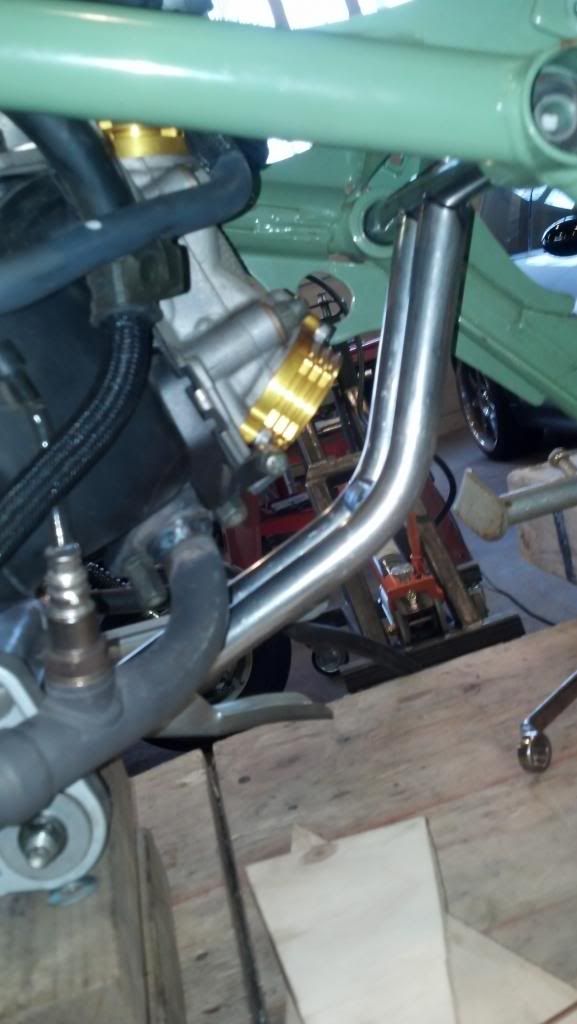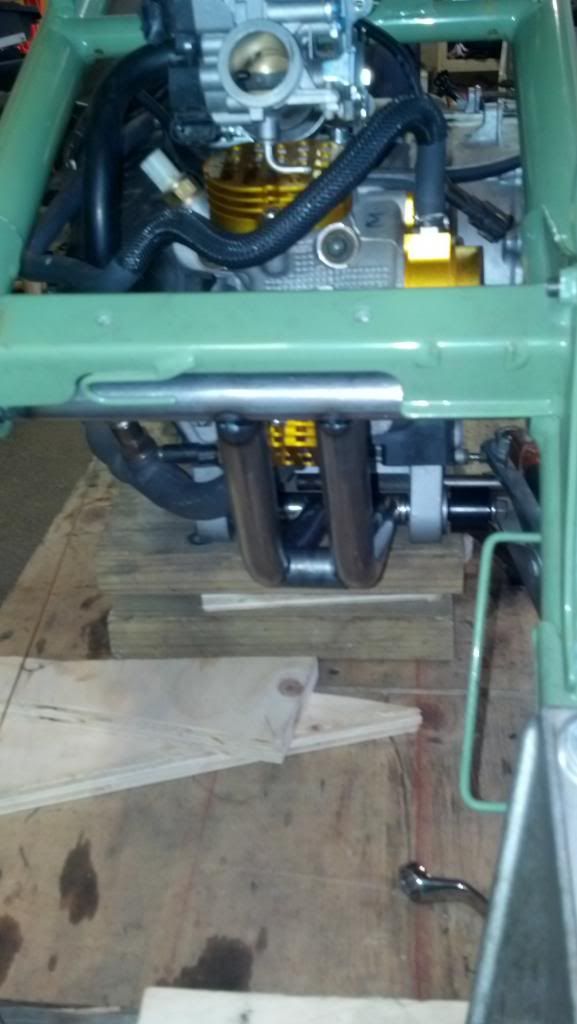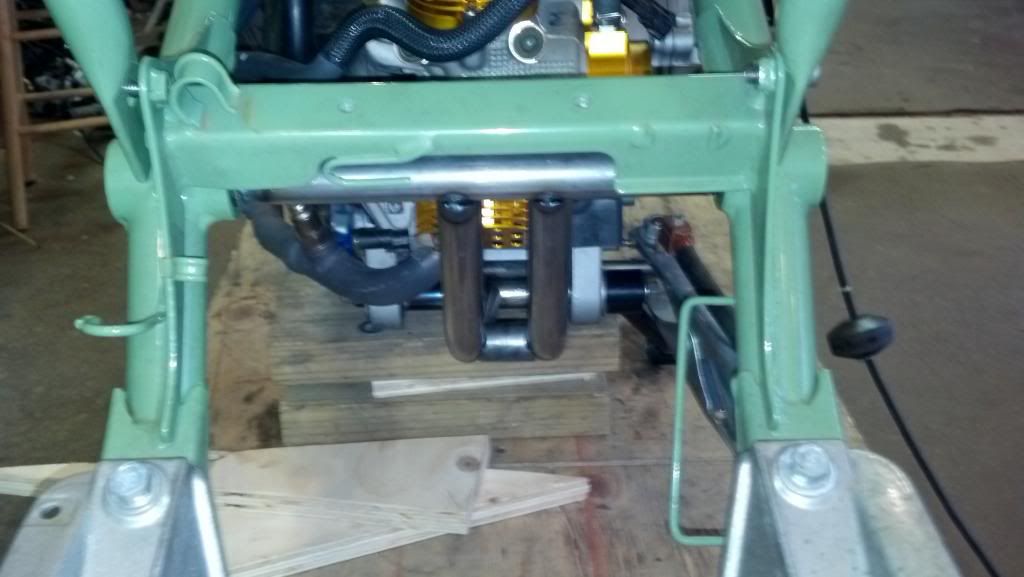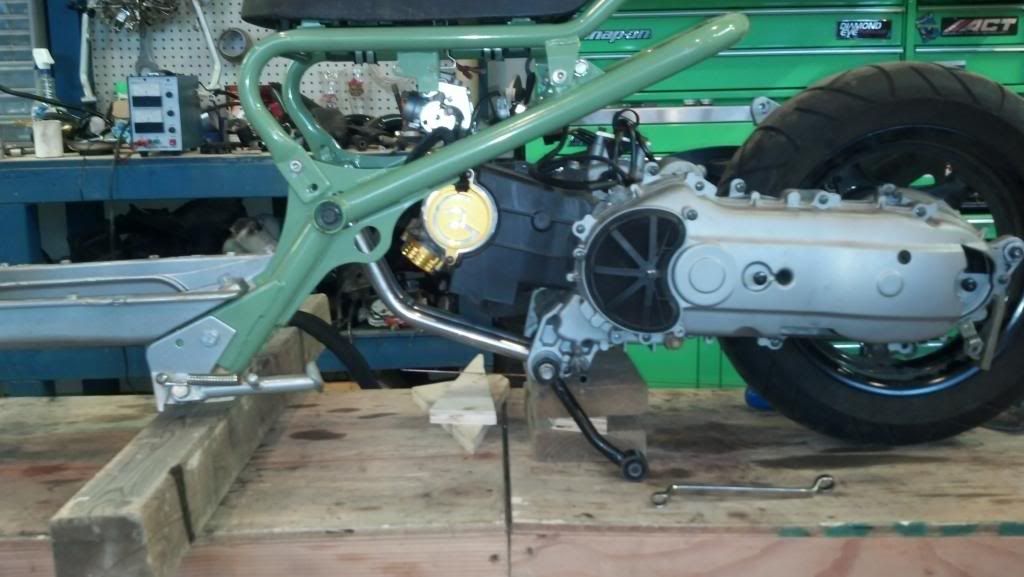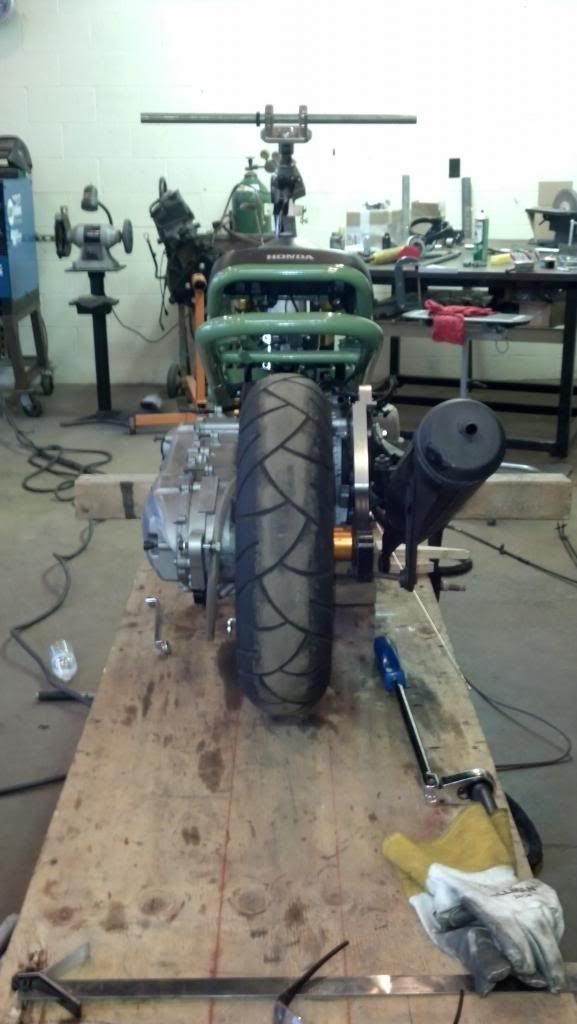 and a little polish: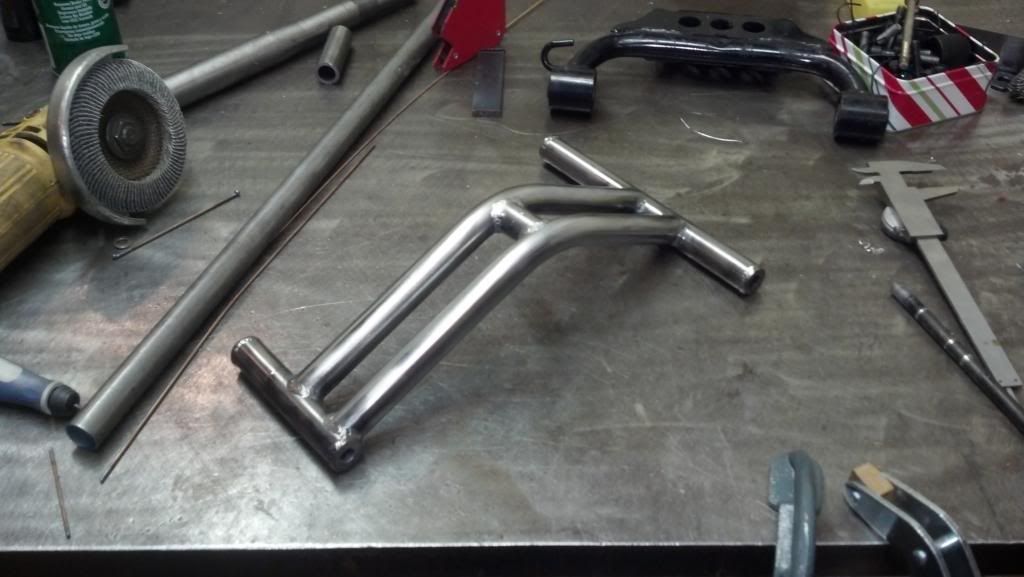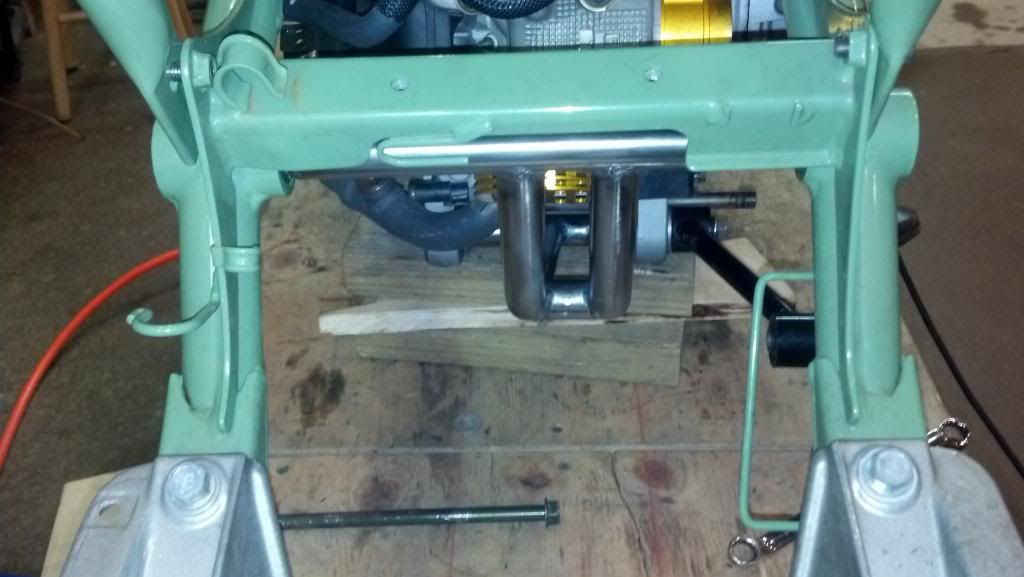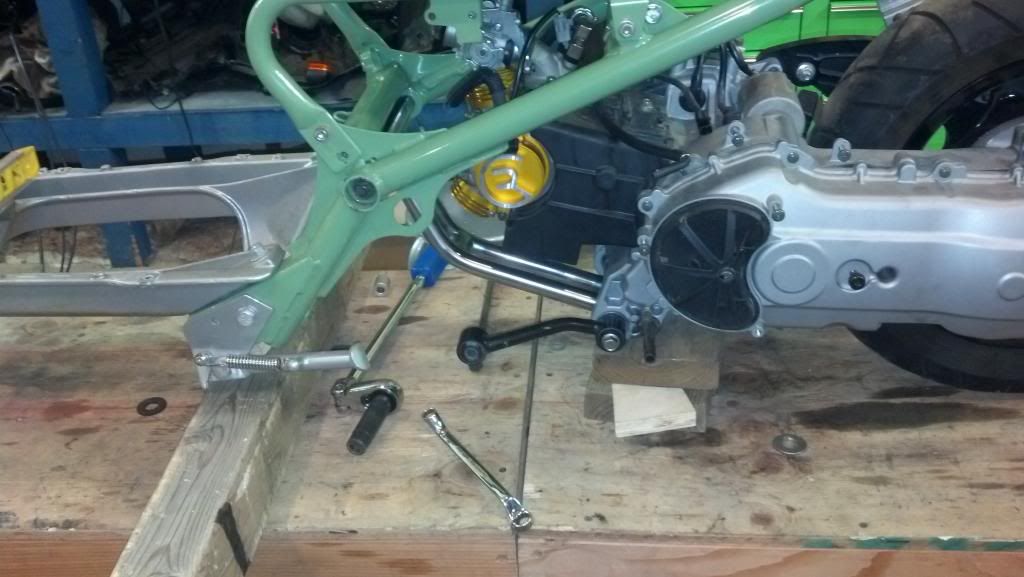 So I am thinking the Ruckus is a top mounted frame that has the pivot point at the top and the z125 is a bottom mount with the pivot point at the bottom. Now I have two pivot points and that is just not going to work, so which point do i make solid, top or bottom? I decided to go with the bottom since it already had bearings in it and I couldnt find enough information on any of the limited kits on how they did it(i know now and they went top) So I commited to making the top mount solid: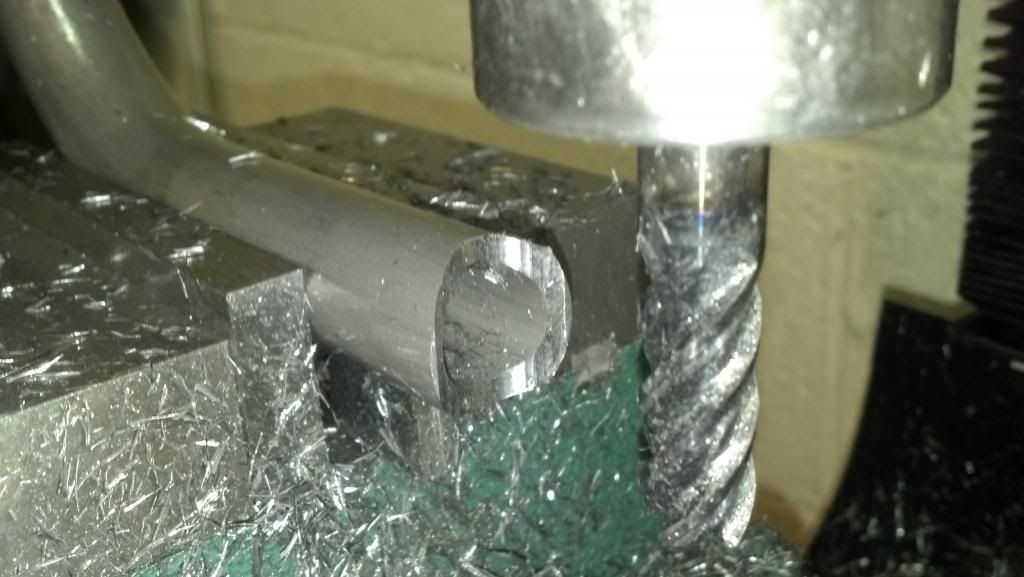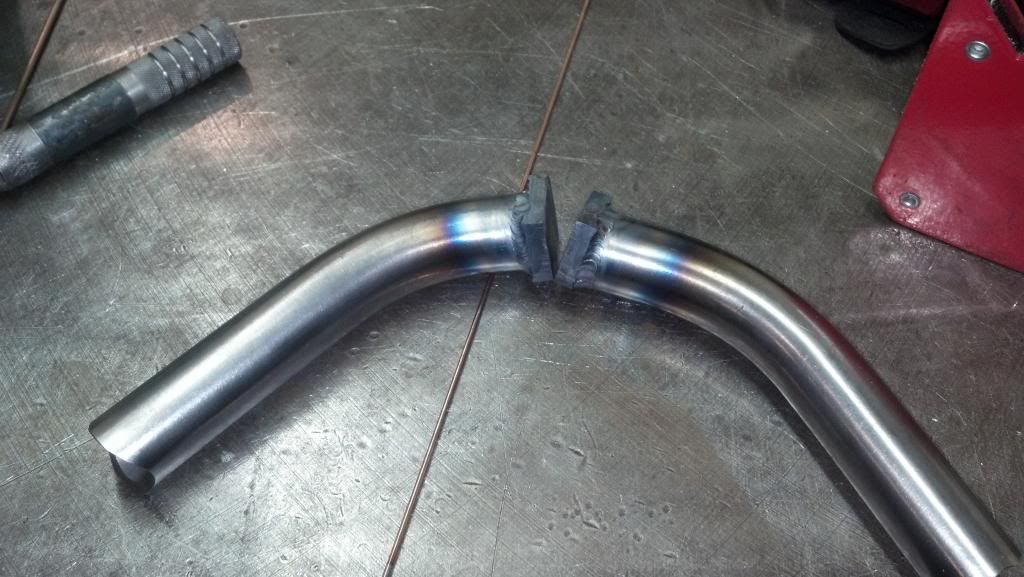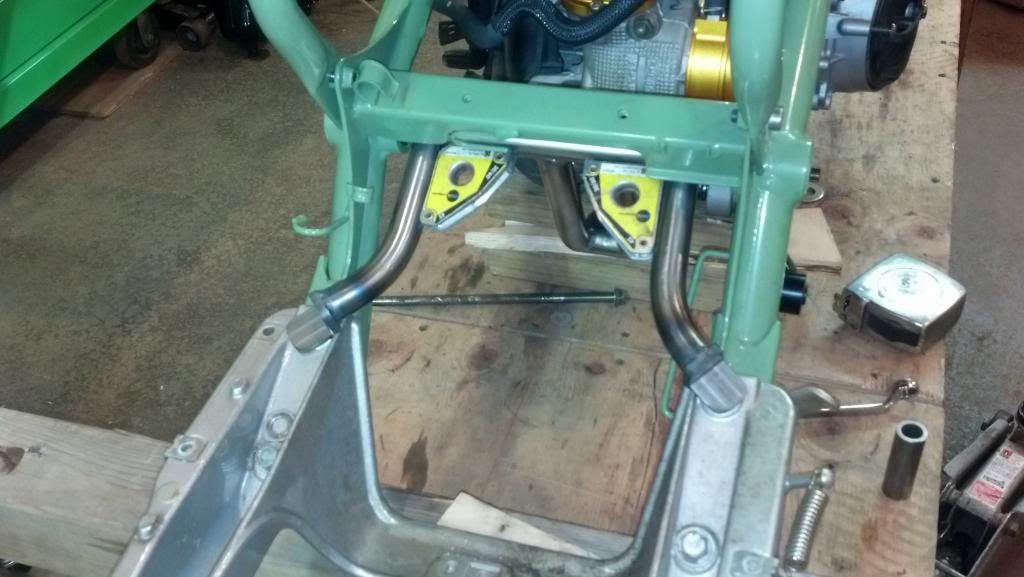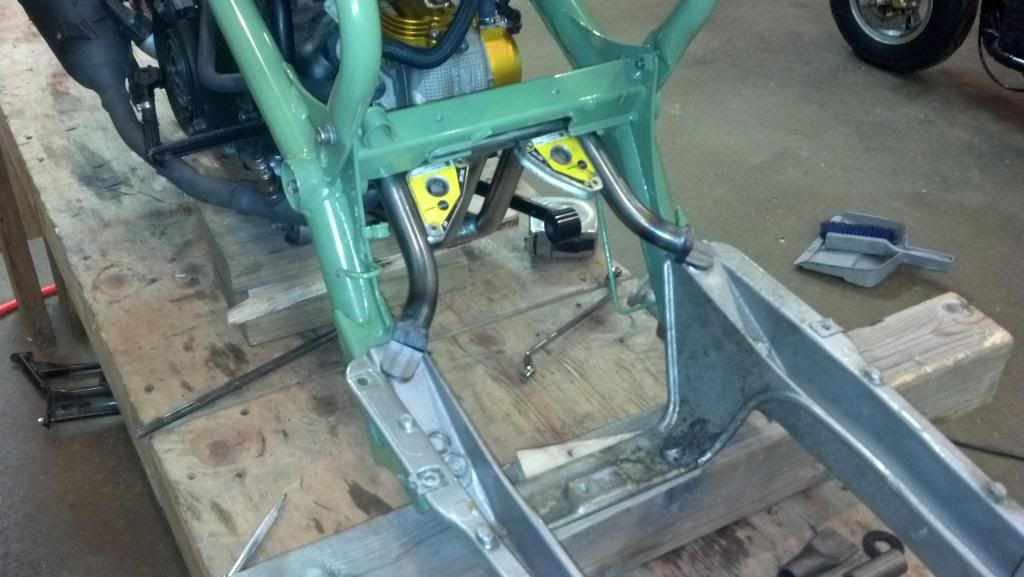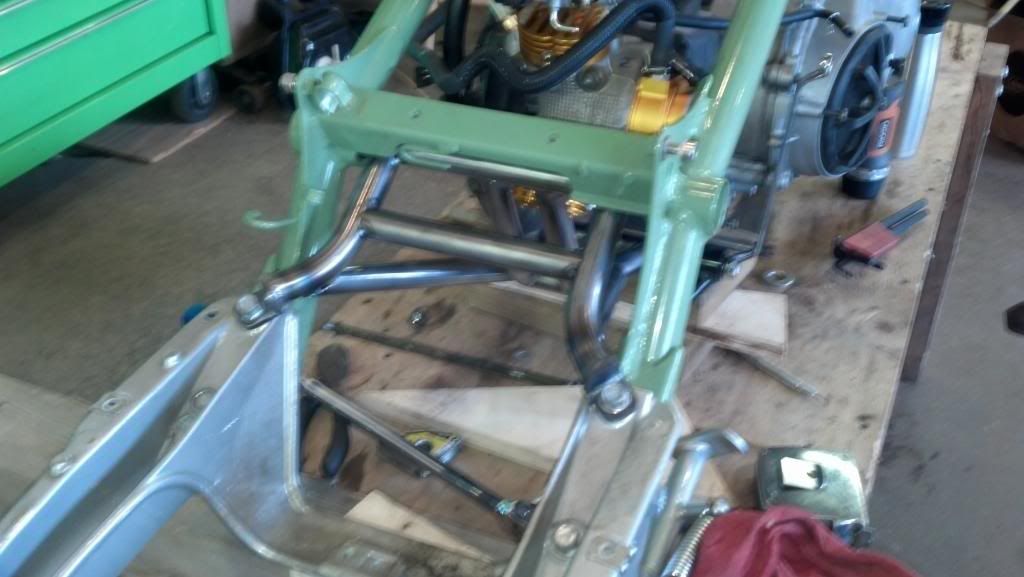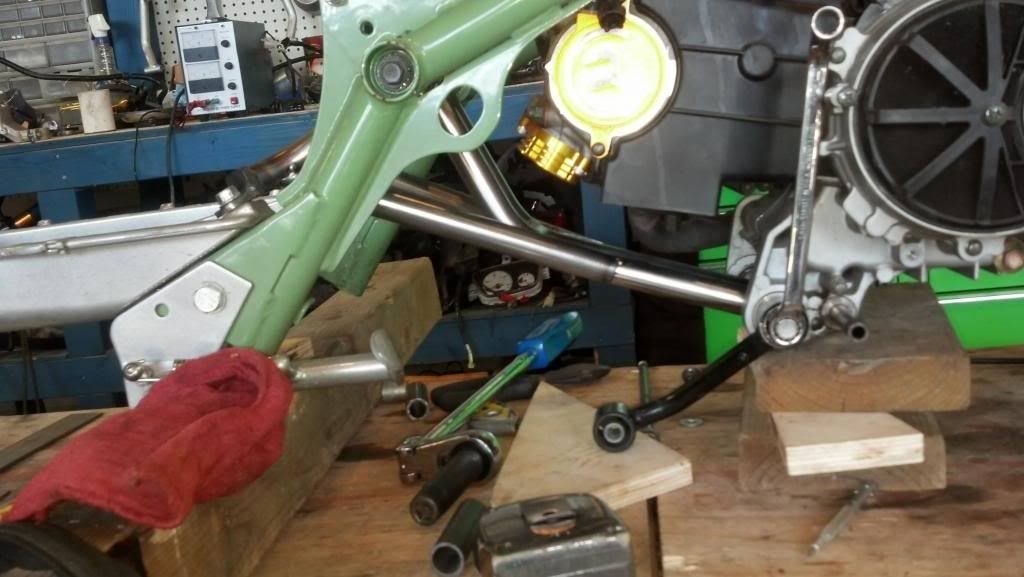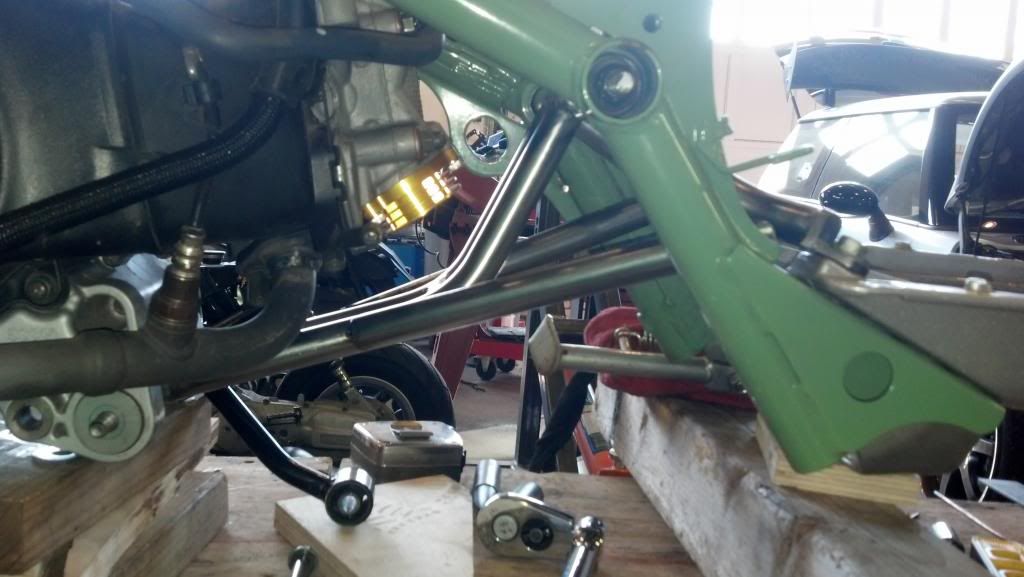 time to make the mount a little more ridgid: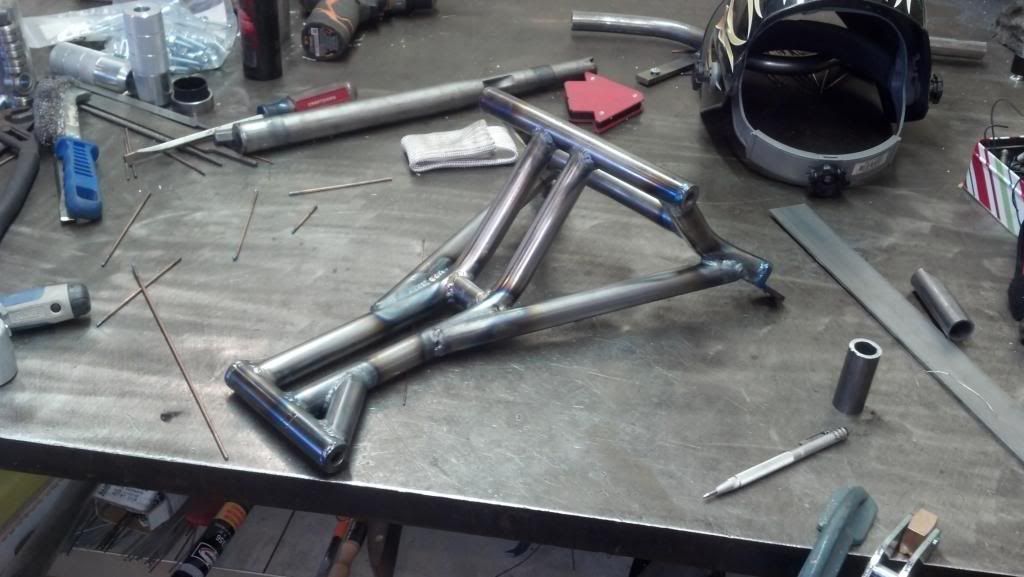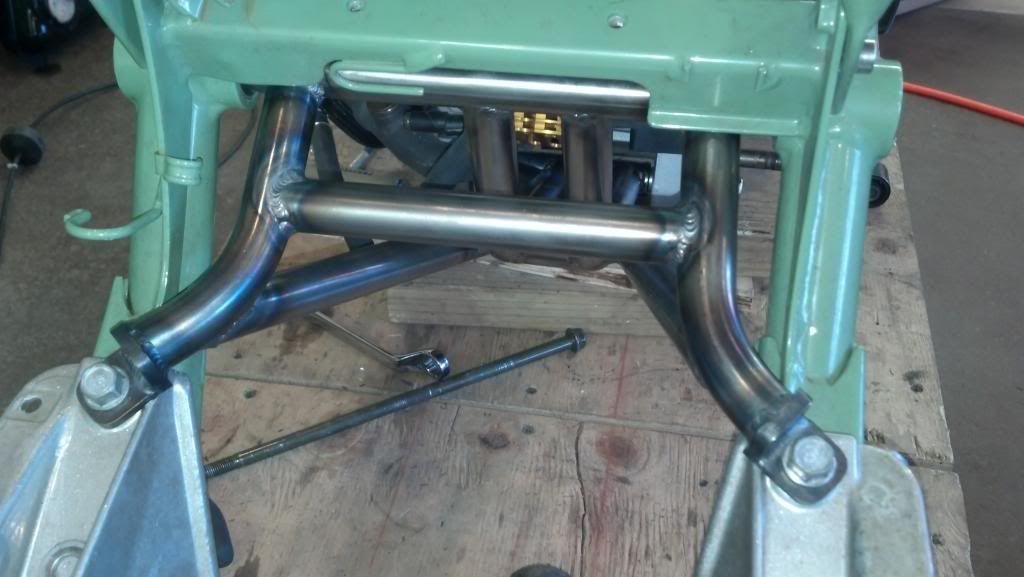 my little hydraulic bender I built making a shock mount: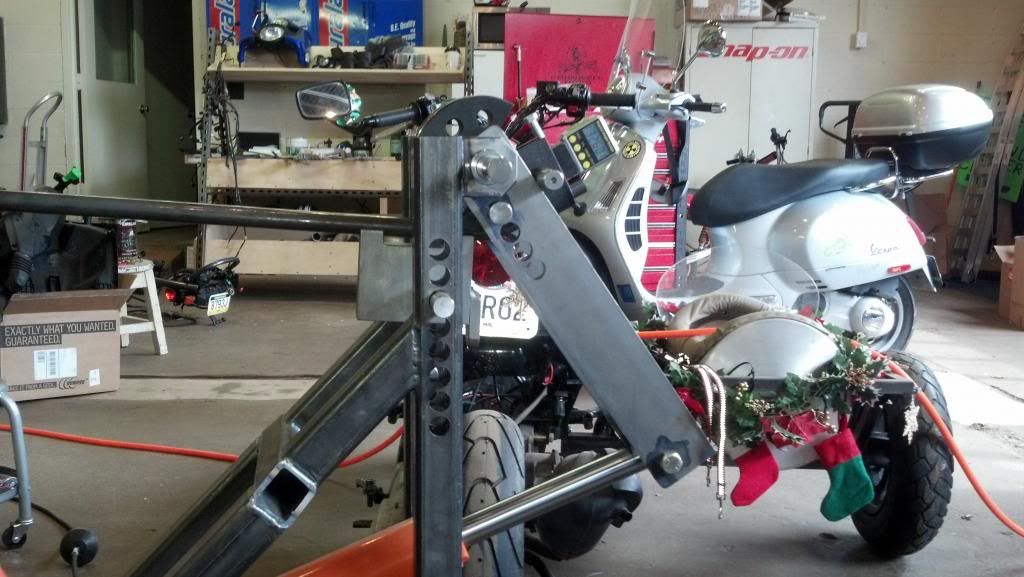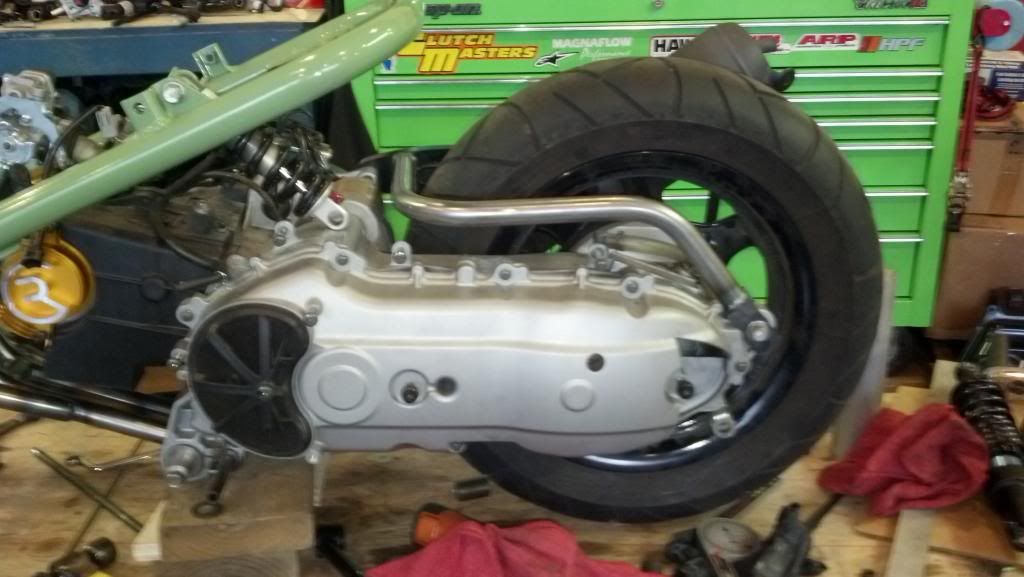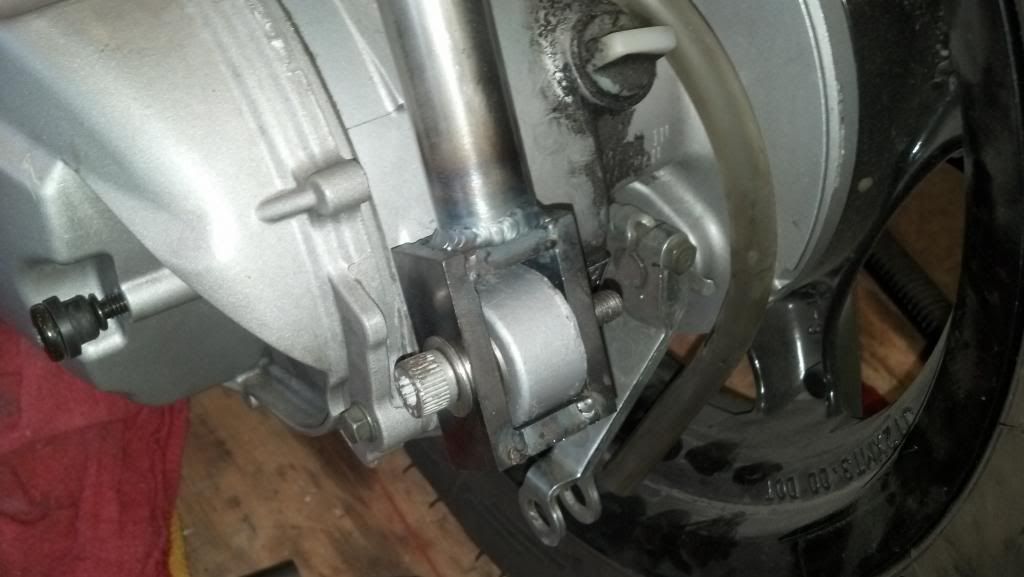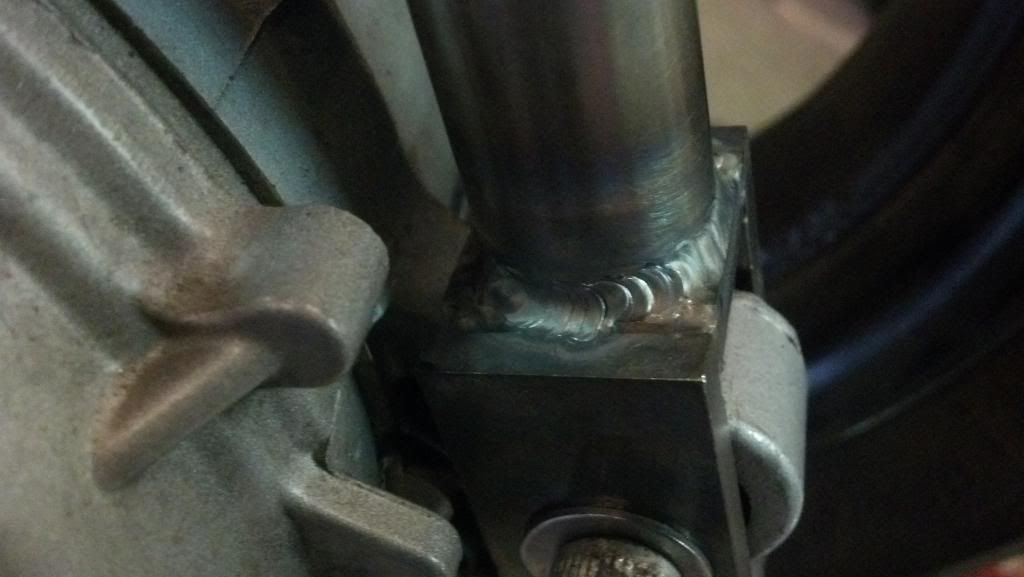 this is a Fox shock I had laying around that was the correct length since I counldnt find anything short enough on what you kids call the interweb: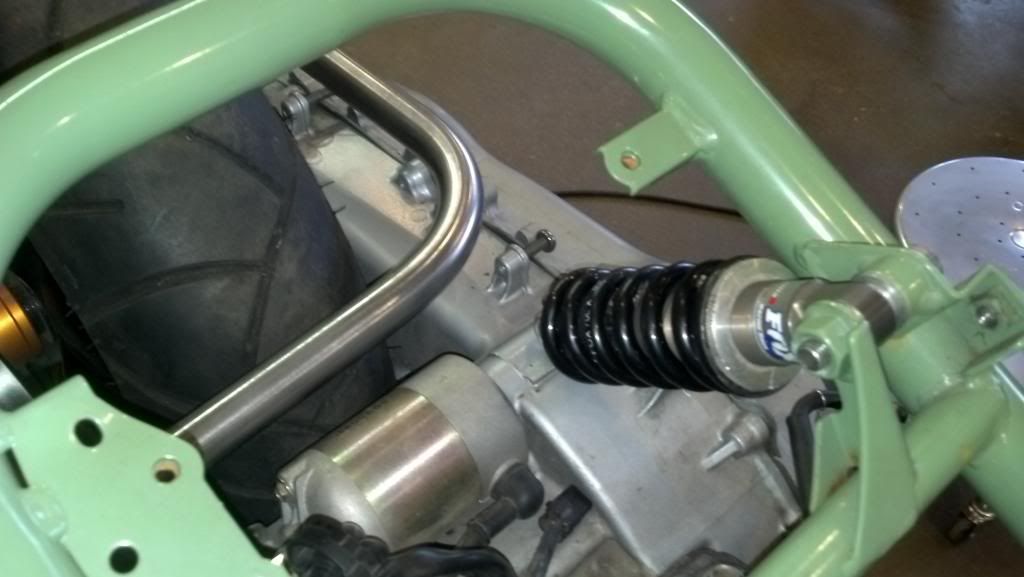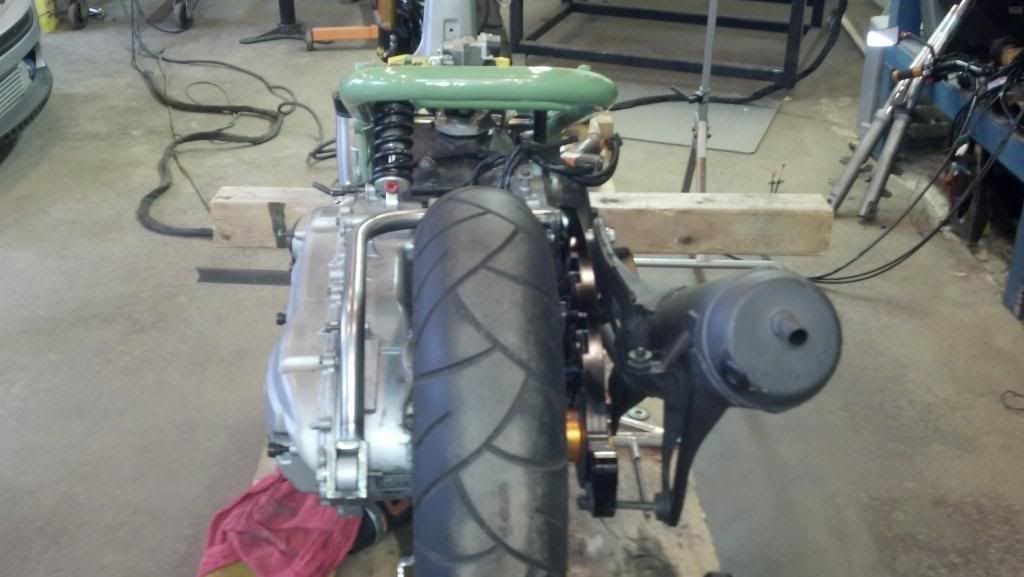 I had to make new bushings to fit in into the stock upper shock mount and my lower mount: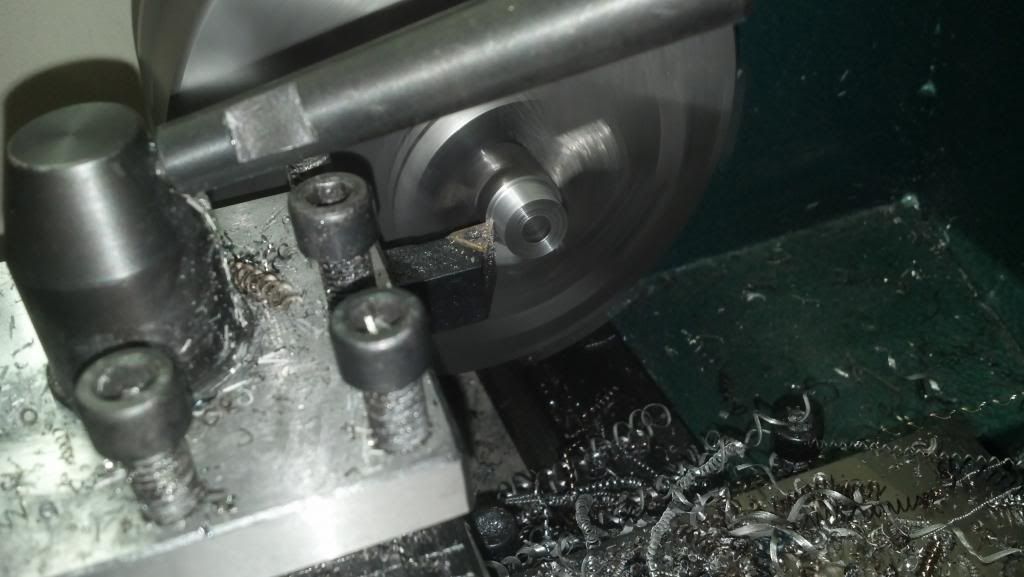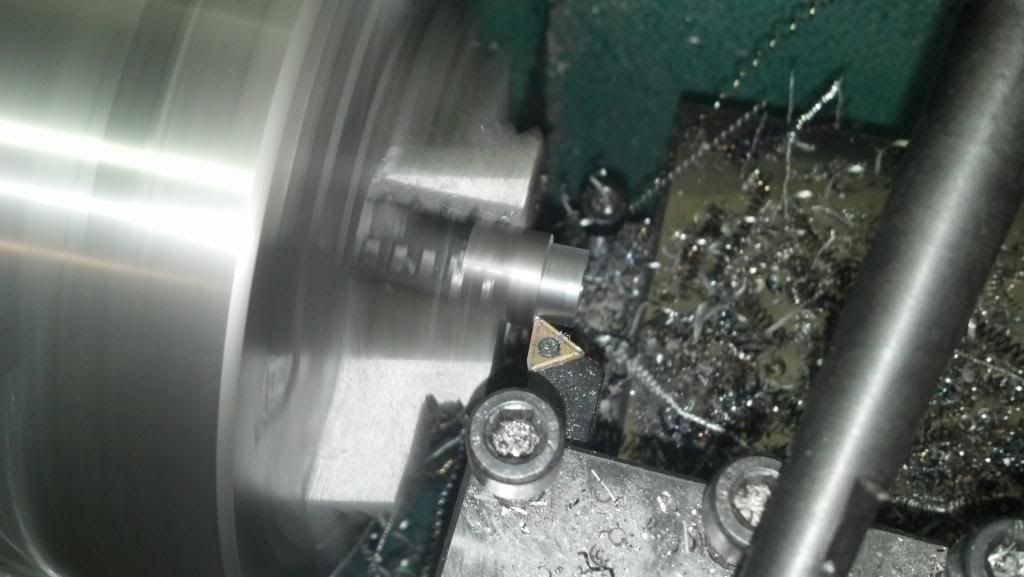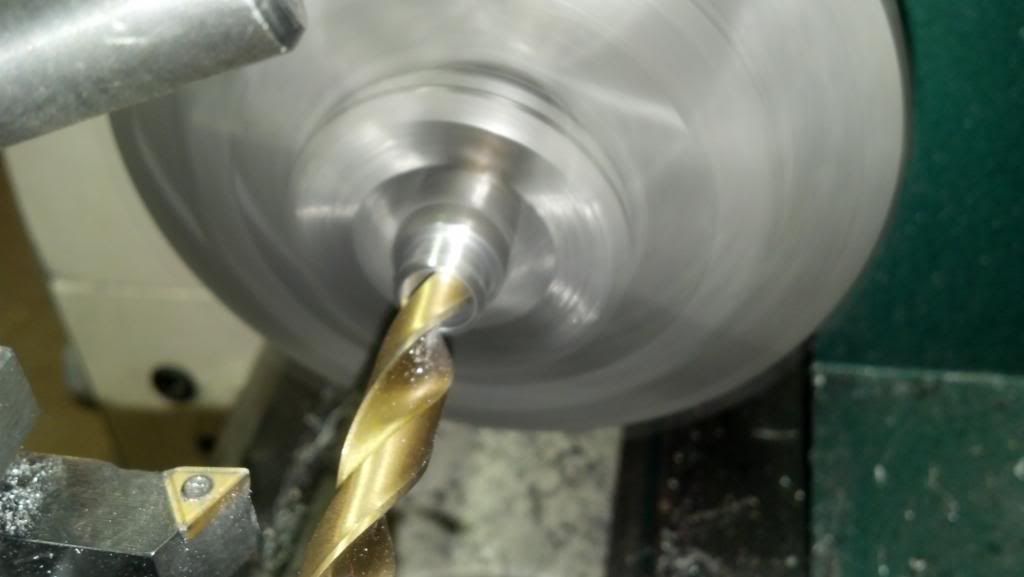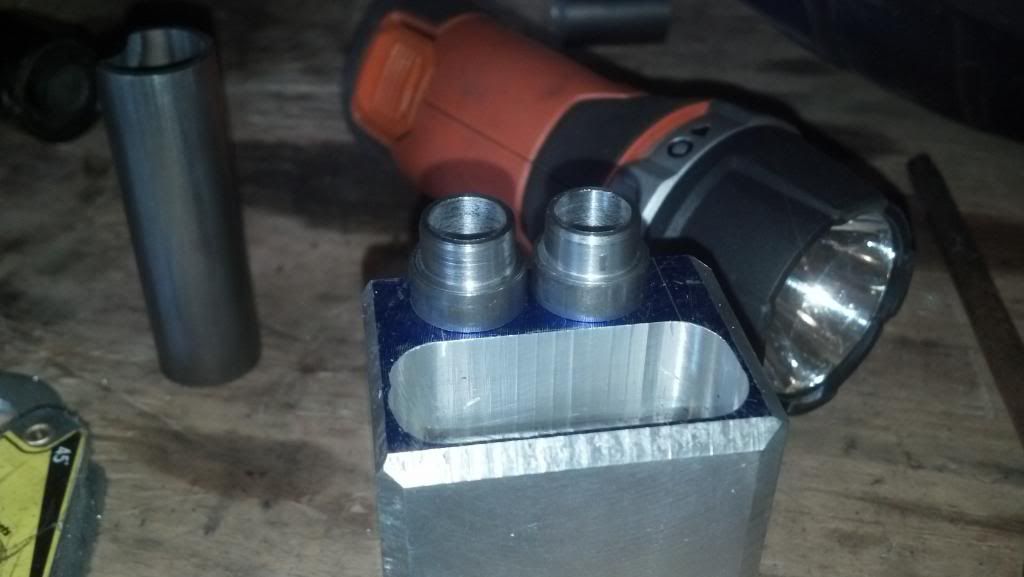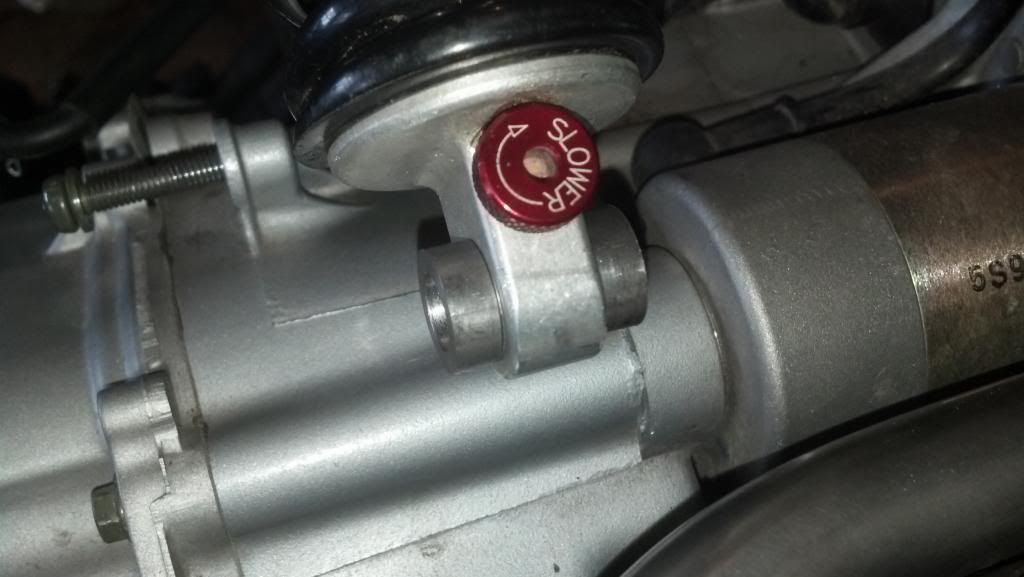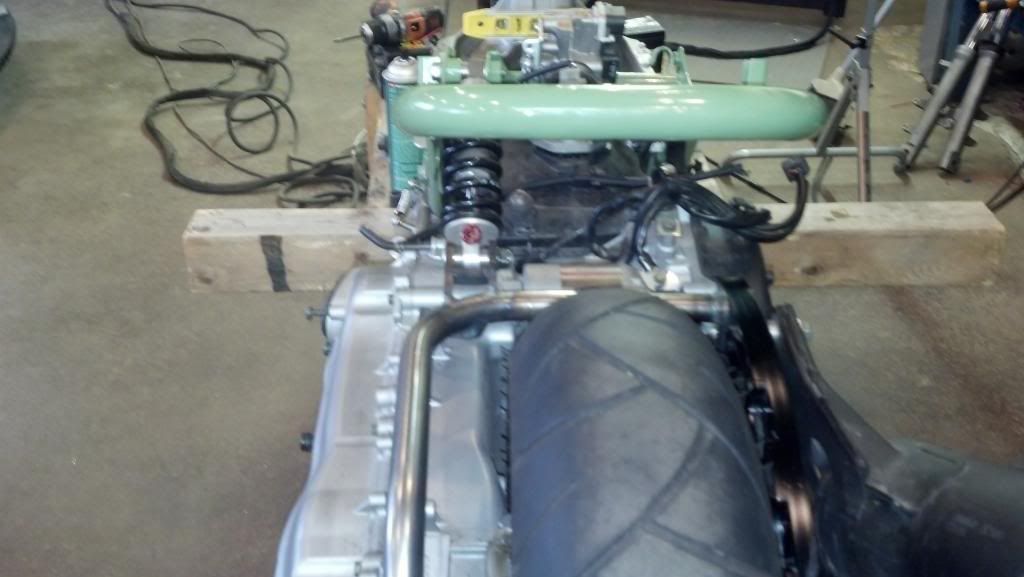 makes the Zuma feel huge!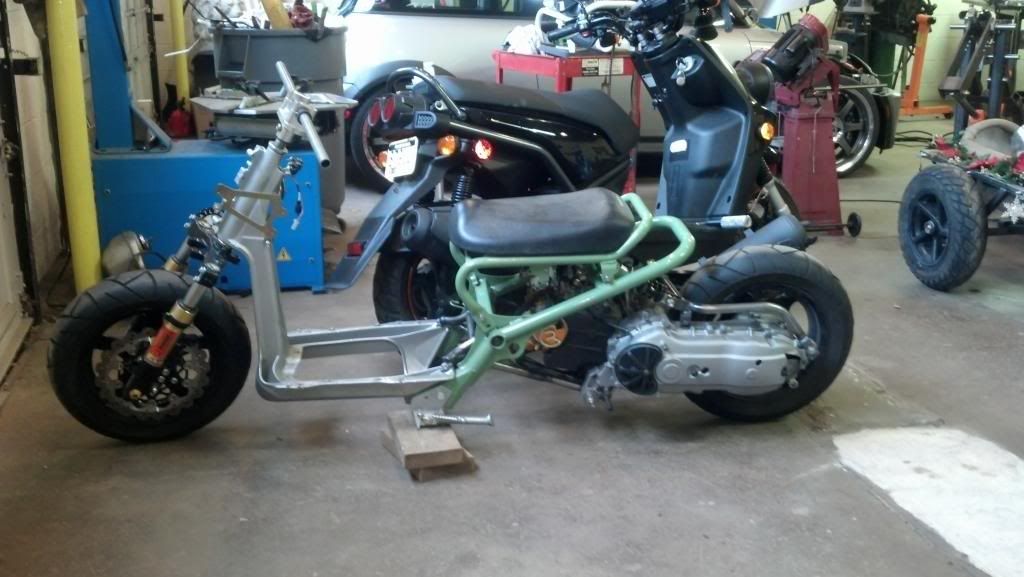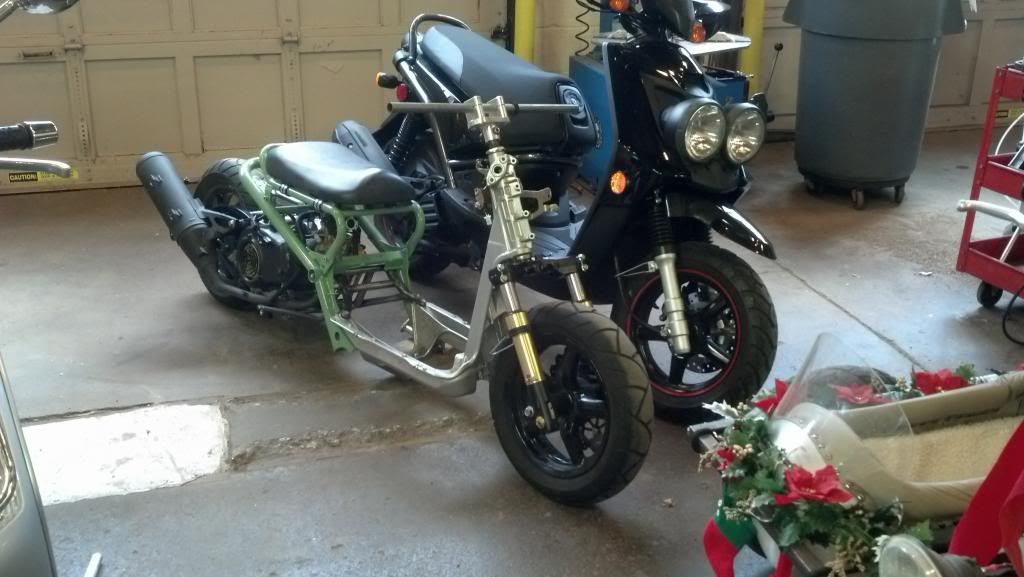 now time to make a tank, a big tank, something that I dont have to fill up every other day. I needed to install the fuel pump from the z125 and it wasnt going to fit nicely into the stock small tank: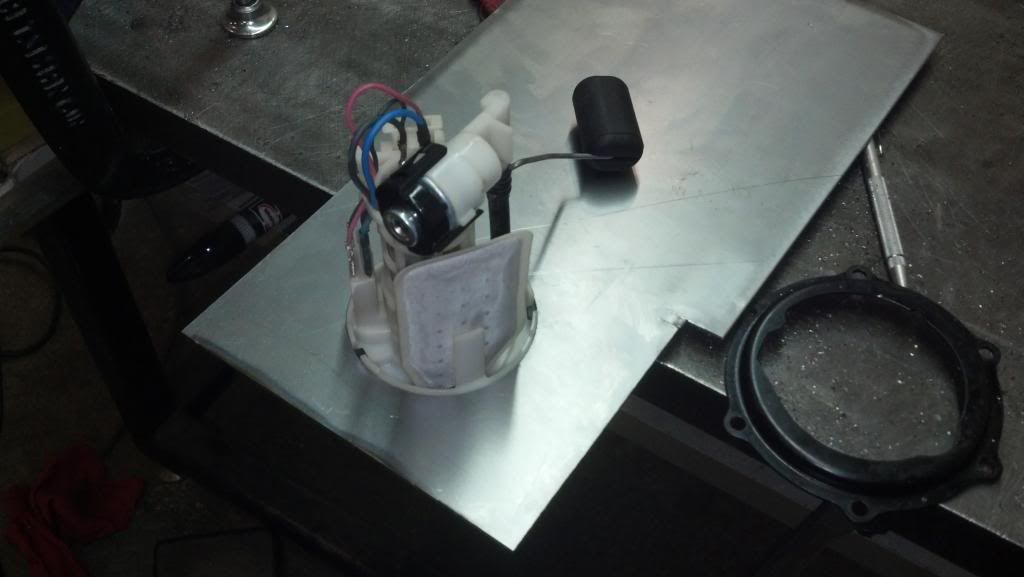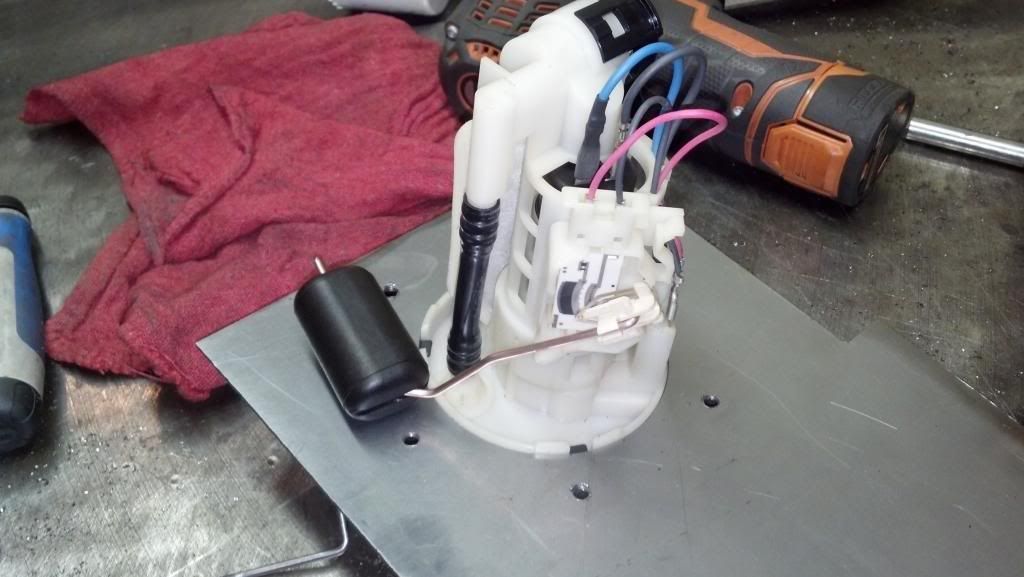 and my first oversight. The holes on the mounting ring look all the same distance, my mistake, they are not. Damn you Yamaha and your production line tricks! they only line up one way and of course it caused my fuel line pickup to point in the wrong direction, so I had to weld the holes shut and re do :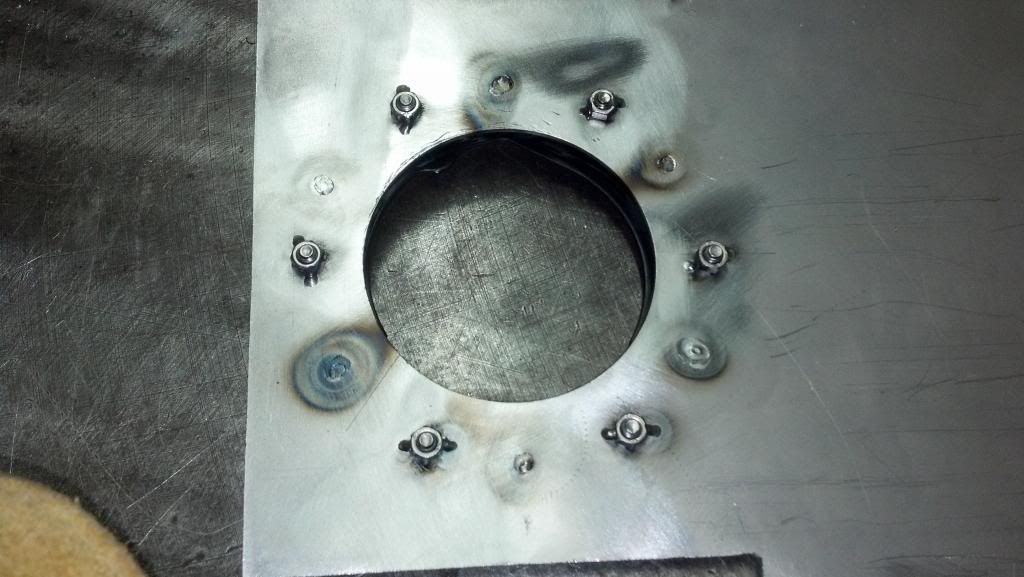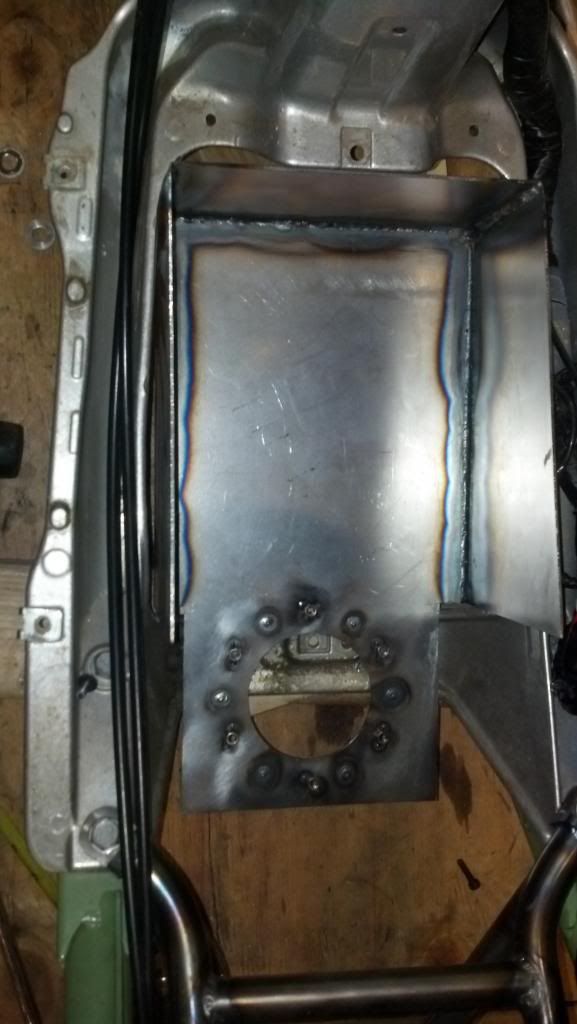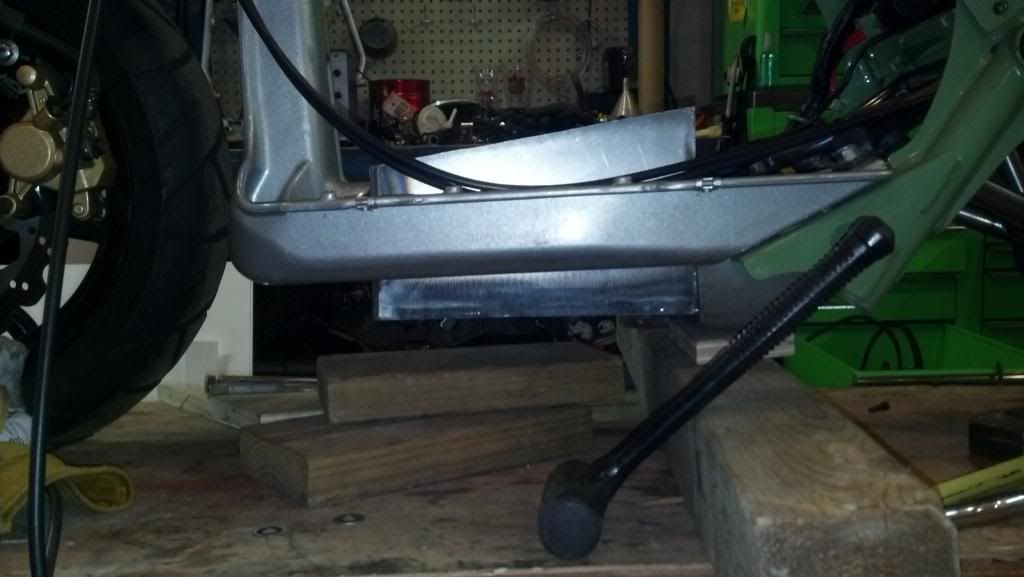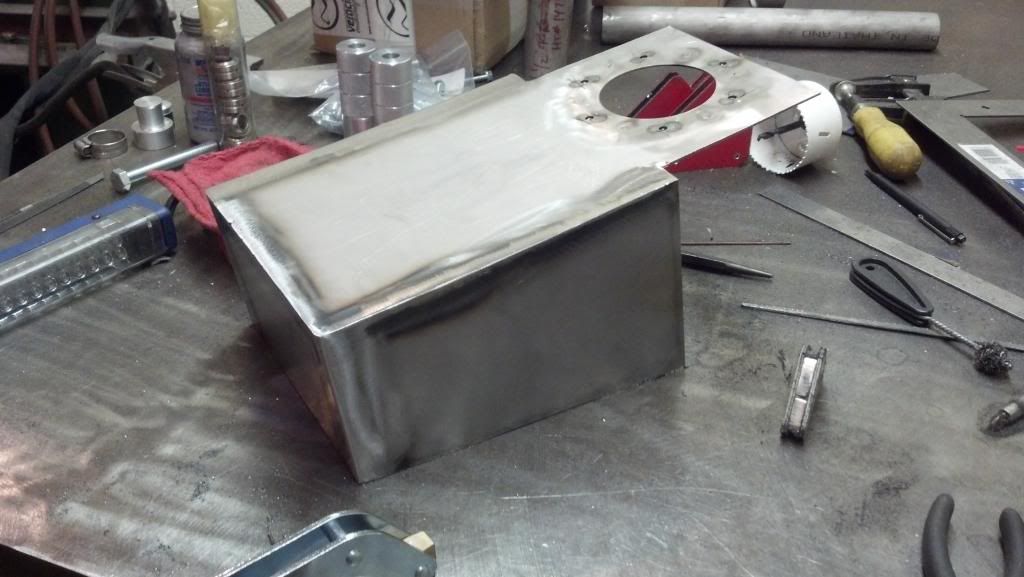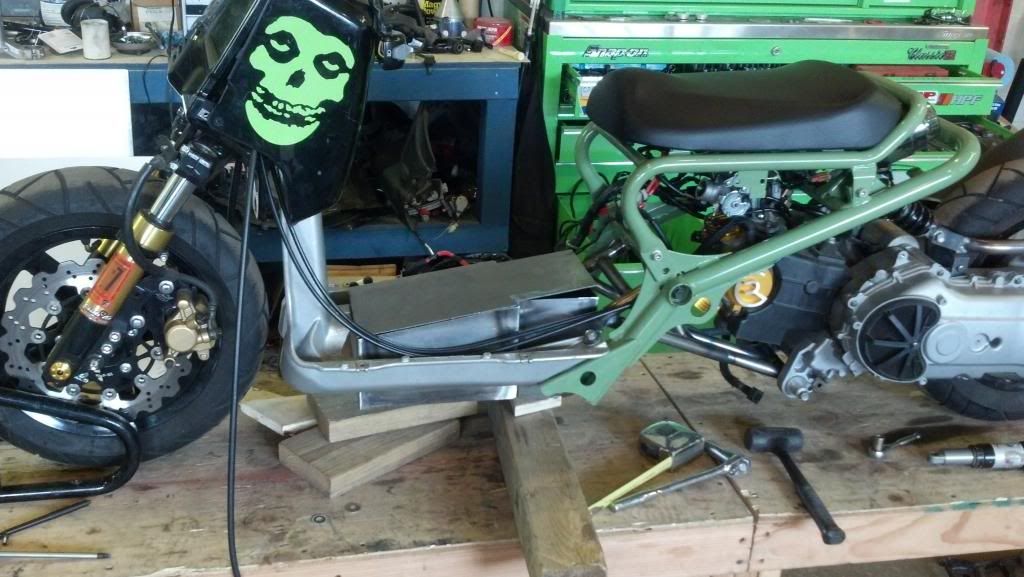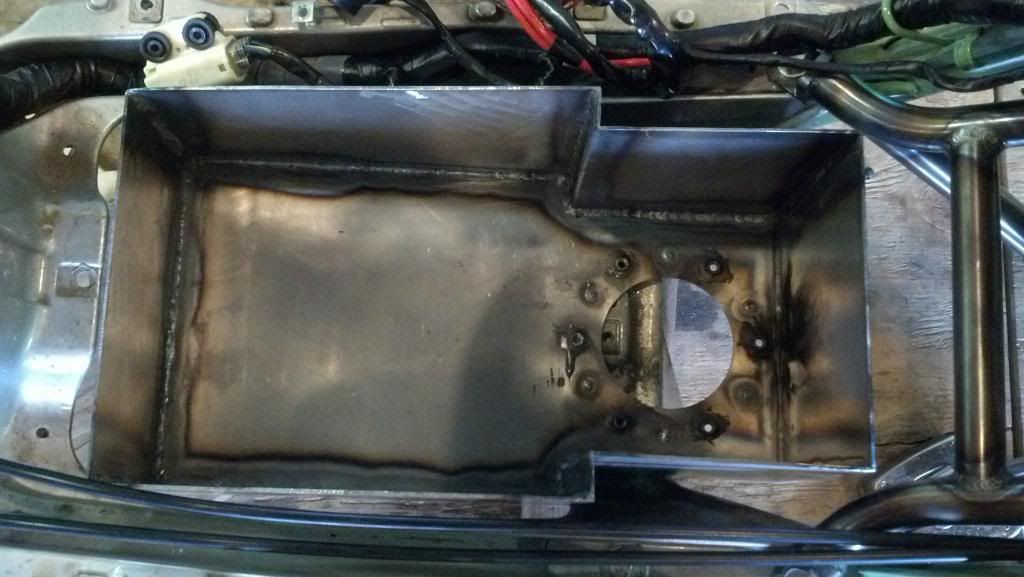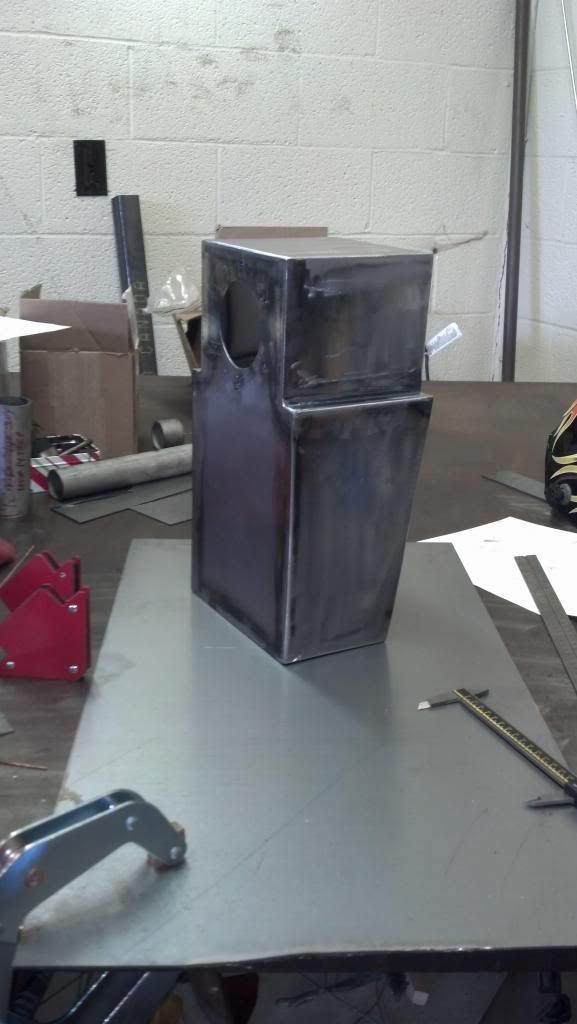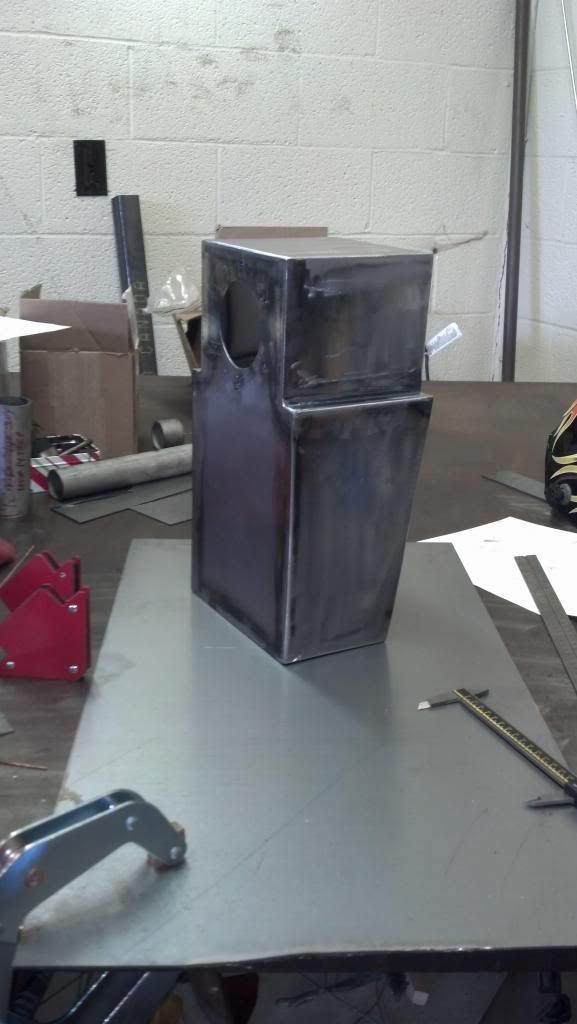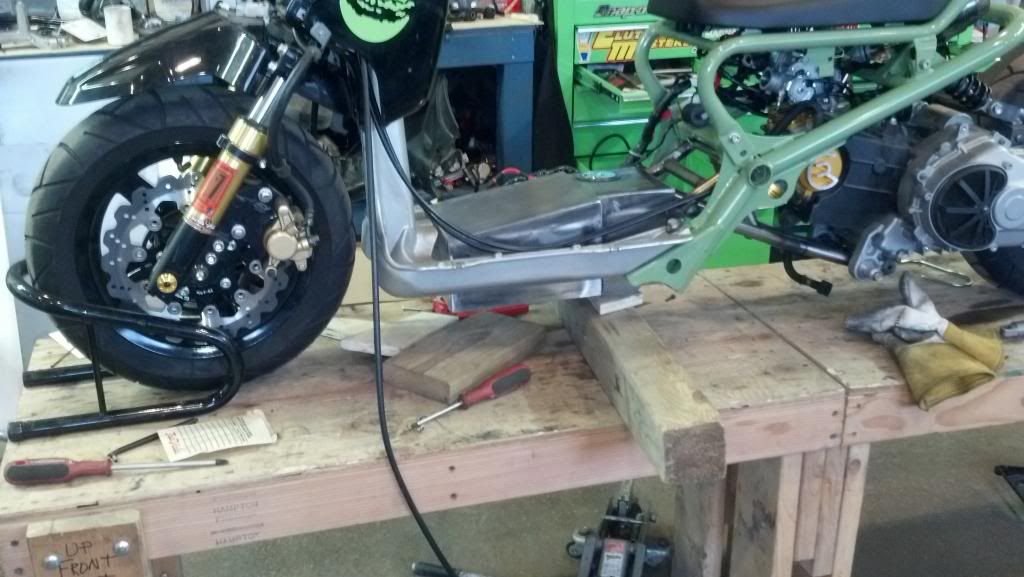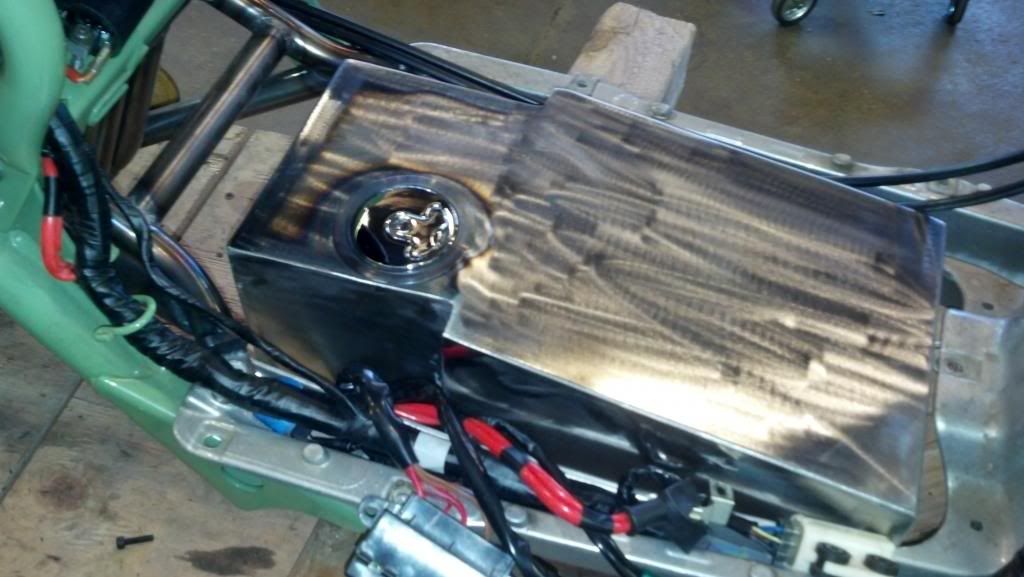 after I powder coated it, dont mind the battery on the floor, that is for testing as at that point I hadnt modified my wiring harness:
I decided to make this velocity stack on the lathe, because, well it is just cool and I wanted to see if I could: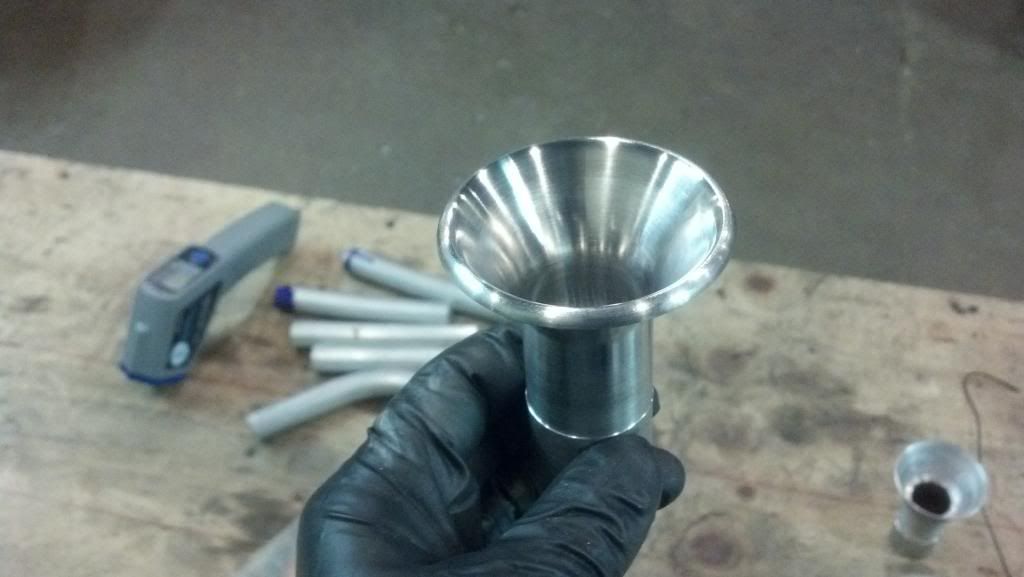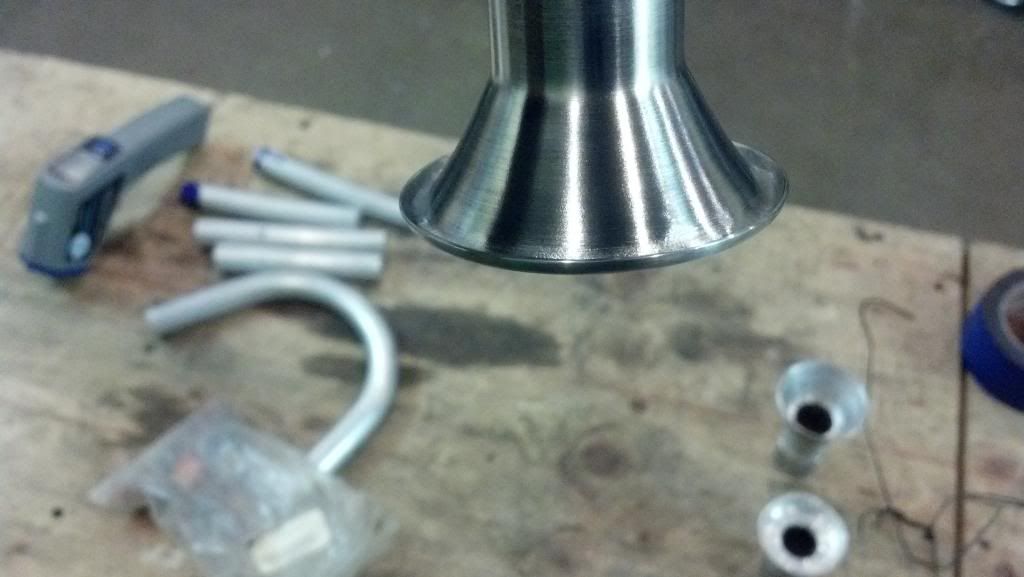 some of my prior failures....i had to keep modifying my tool until it did what I wanted: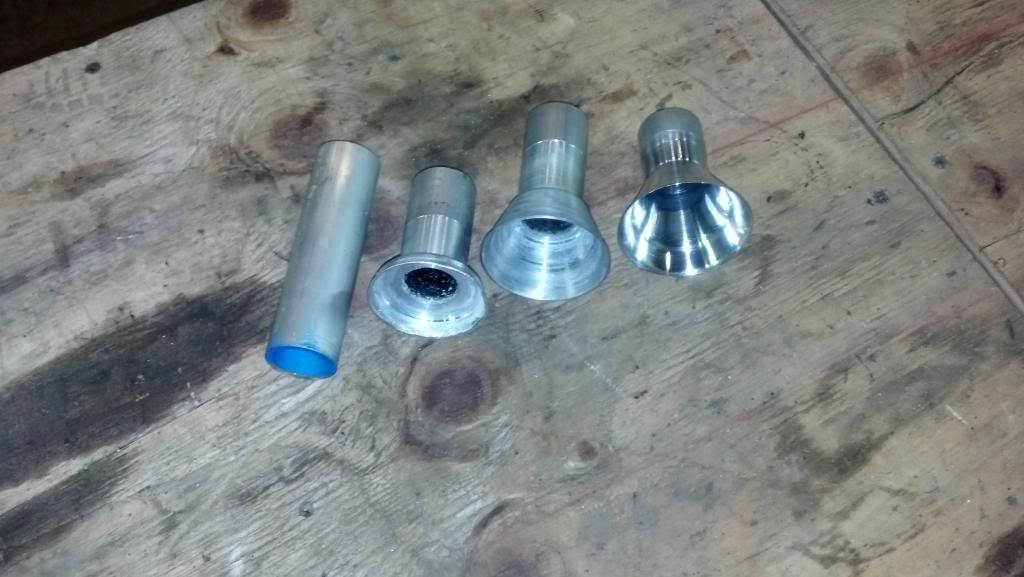 figured I would mount it off to the side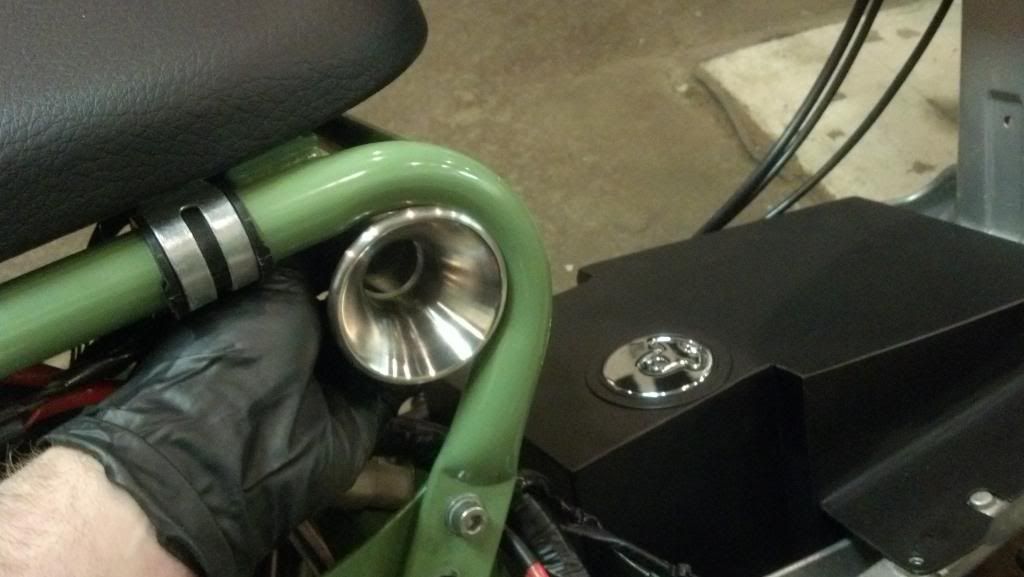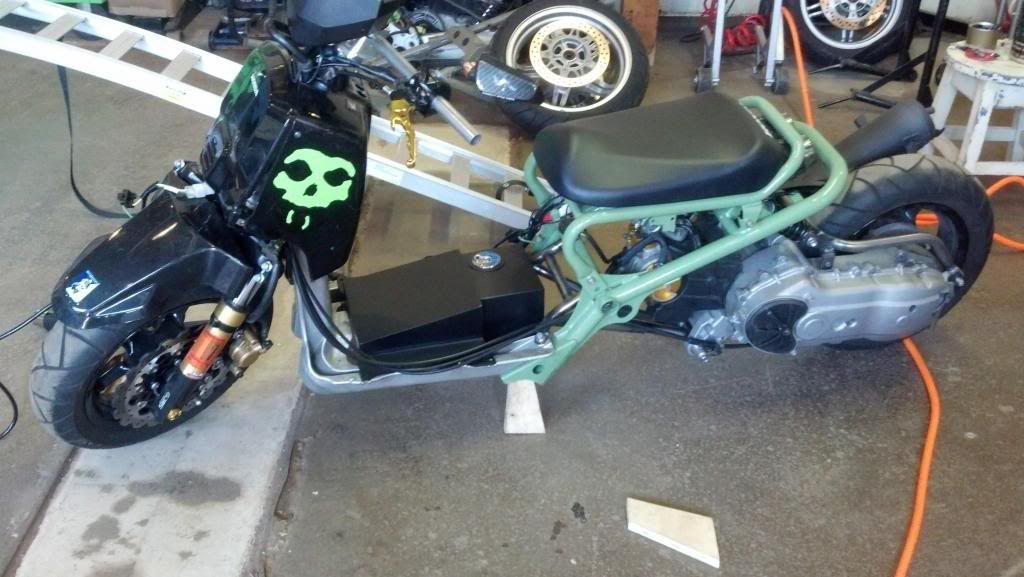 decided I needed a headlight and figured I had a spare zuma 50 headlamp and would use that temporarly until I could decide what I wanted to use so I rolled a piece of 304ss tube and started to make a web bracket. It is different, but defintely not final: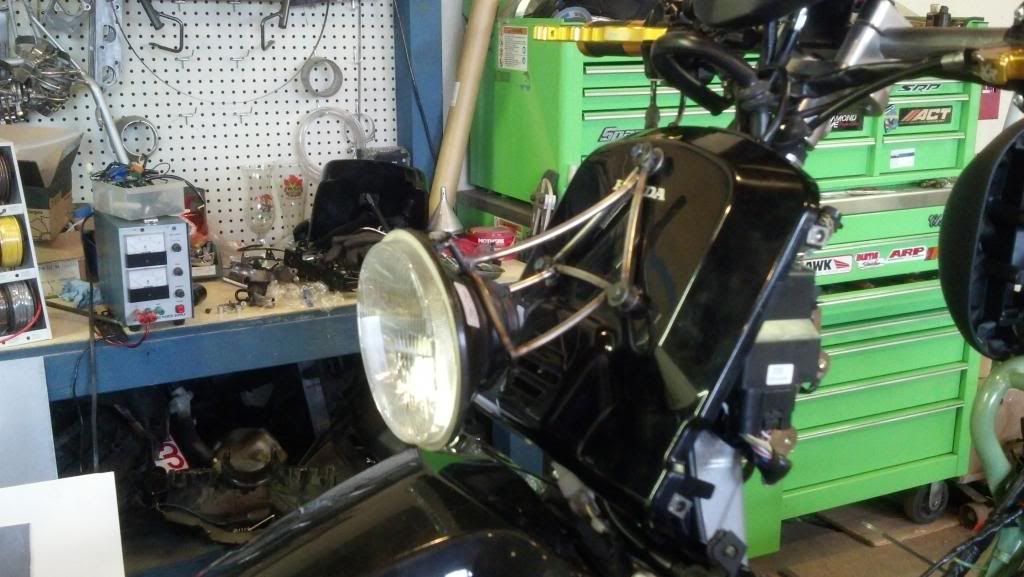 Some exhaust fabrication for your viewing enjoyment
304SS made in USA!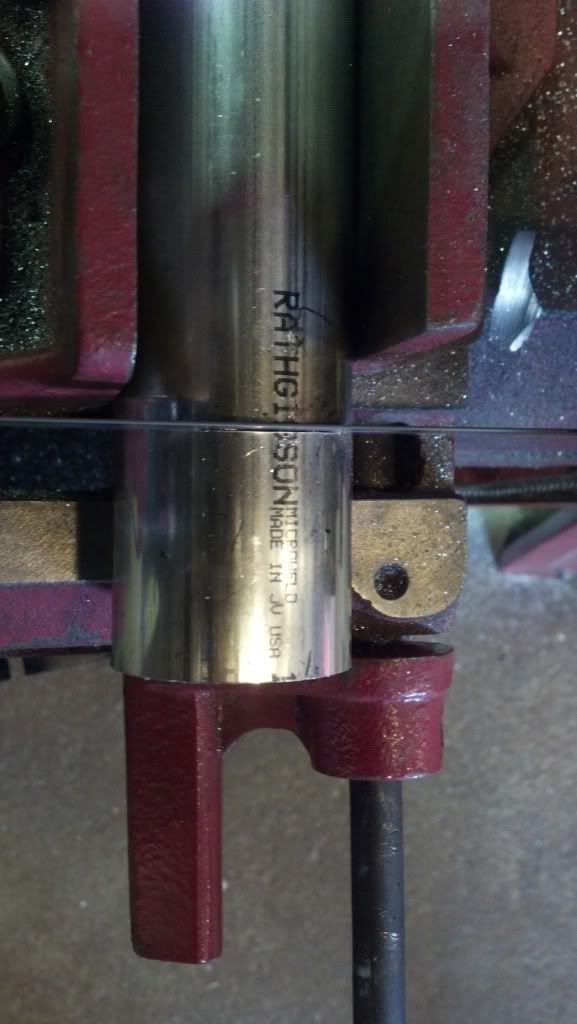 some Akro Ti love, had to stretch a piece to fit the inlet of the Akro.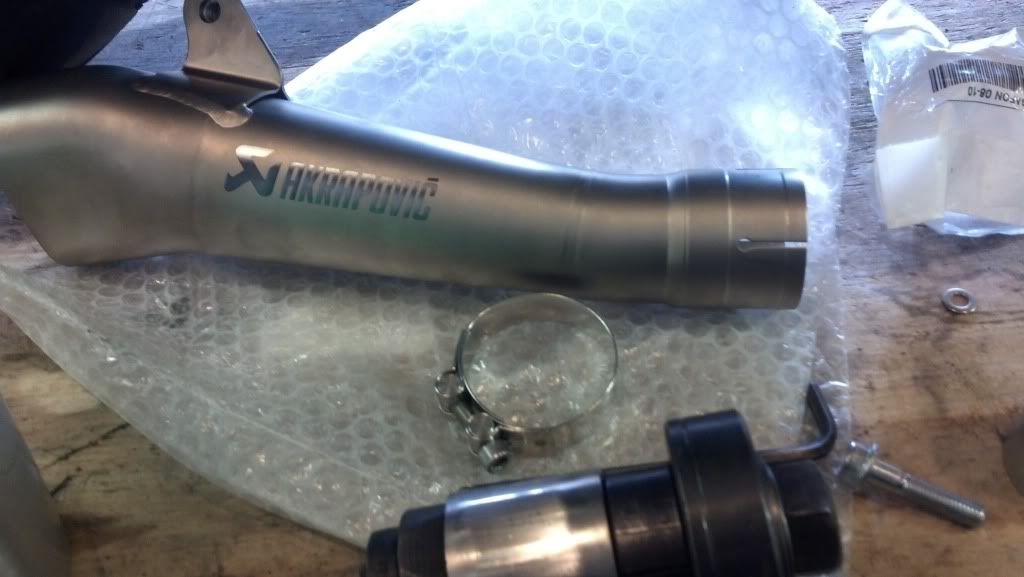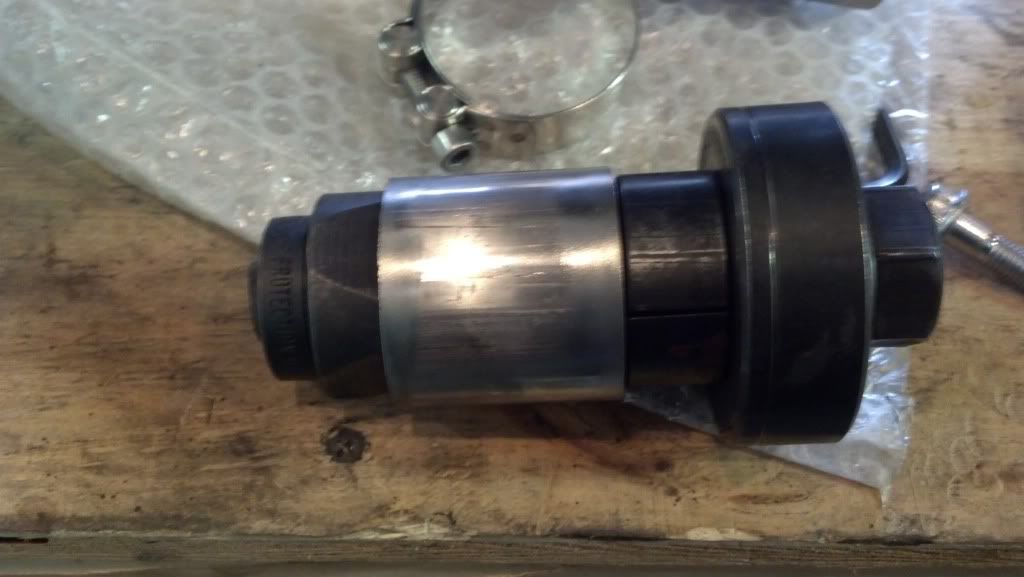 not stretched
after stretching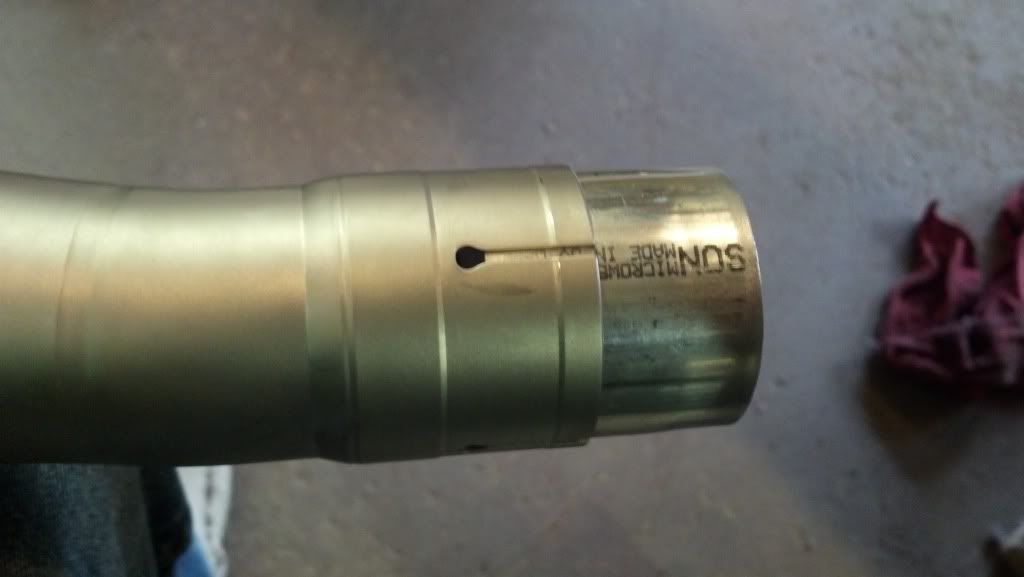 sizing it down to fit the rest of the header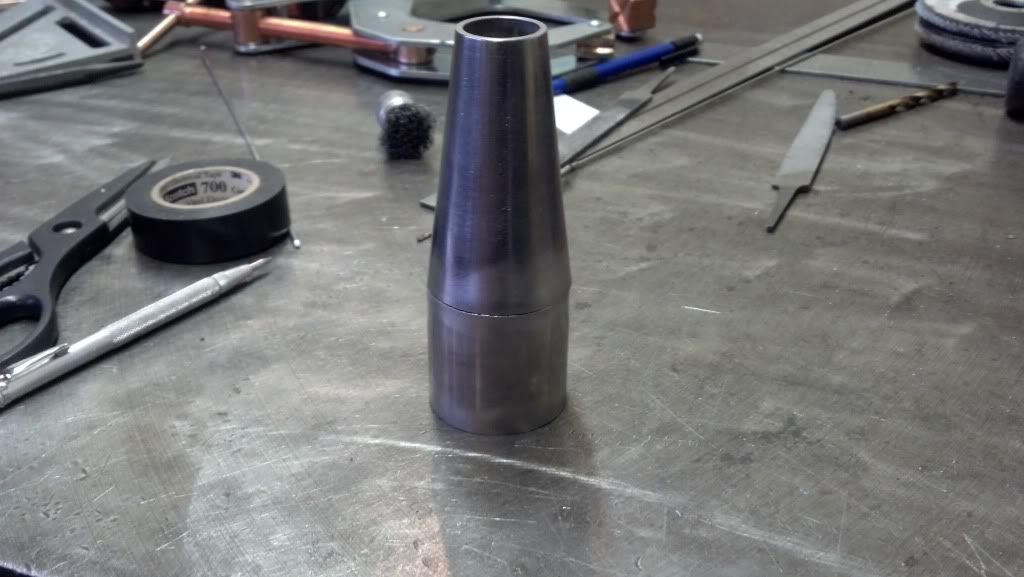 and all welded up! I used the stock flange since it has a insert and I was being lazy for now: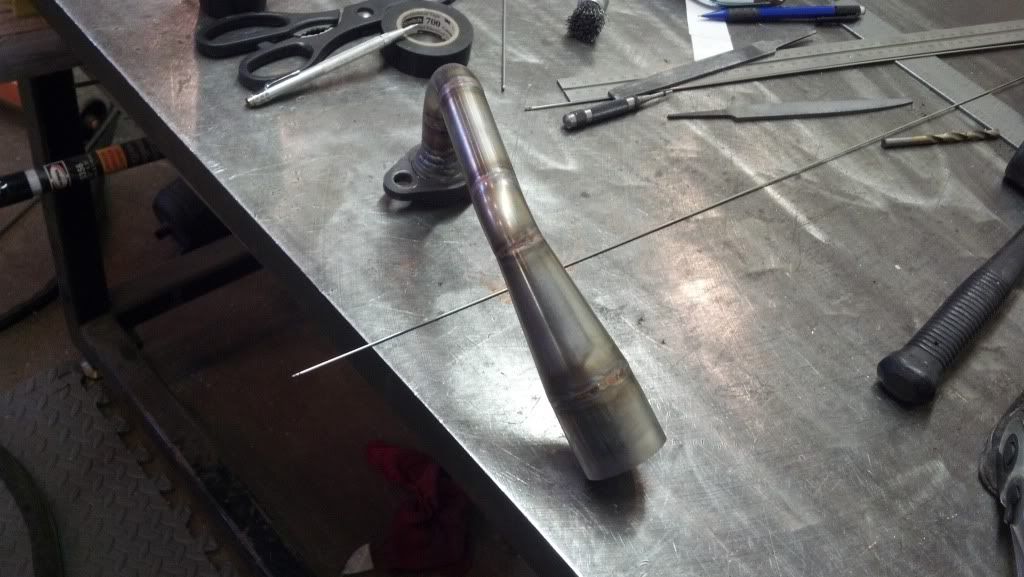 and with the slip fit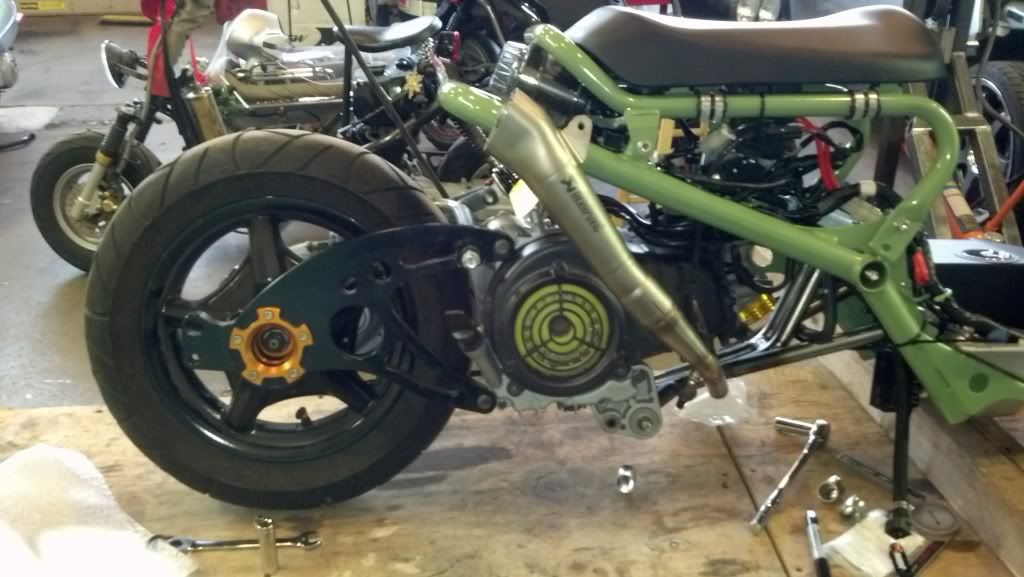 needed to add an o2 bung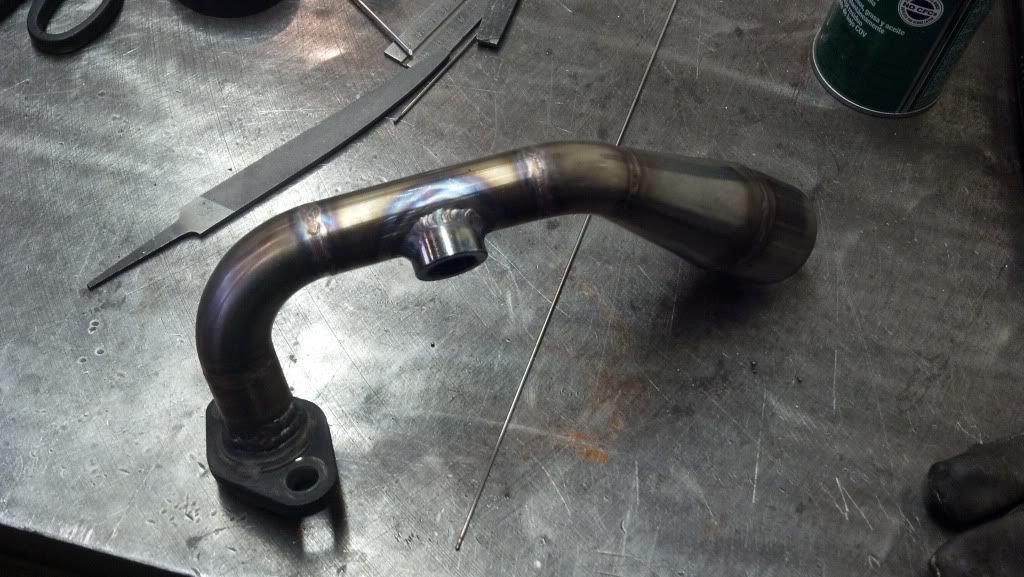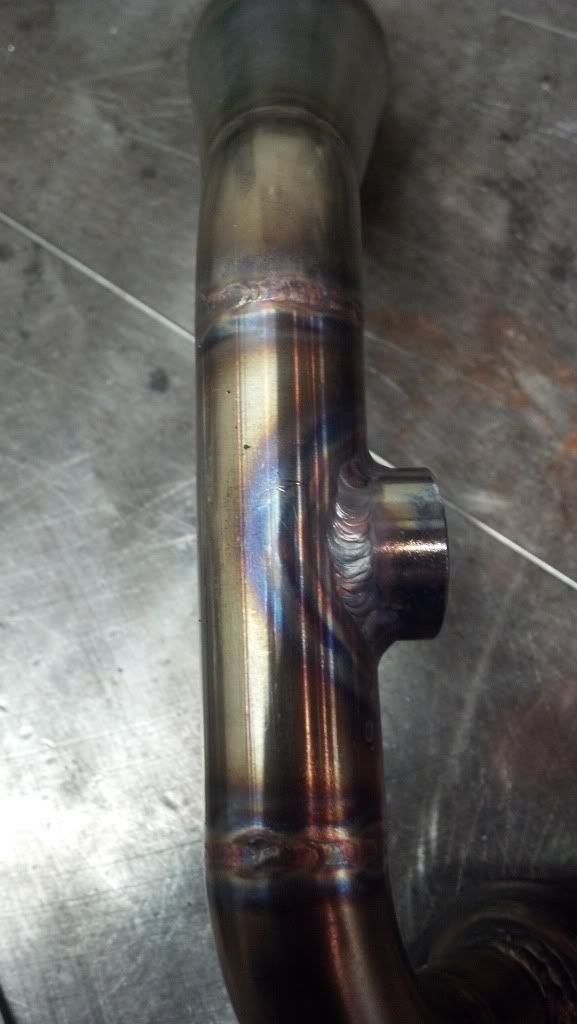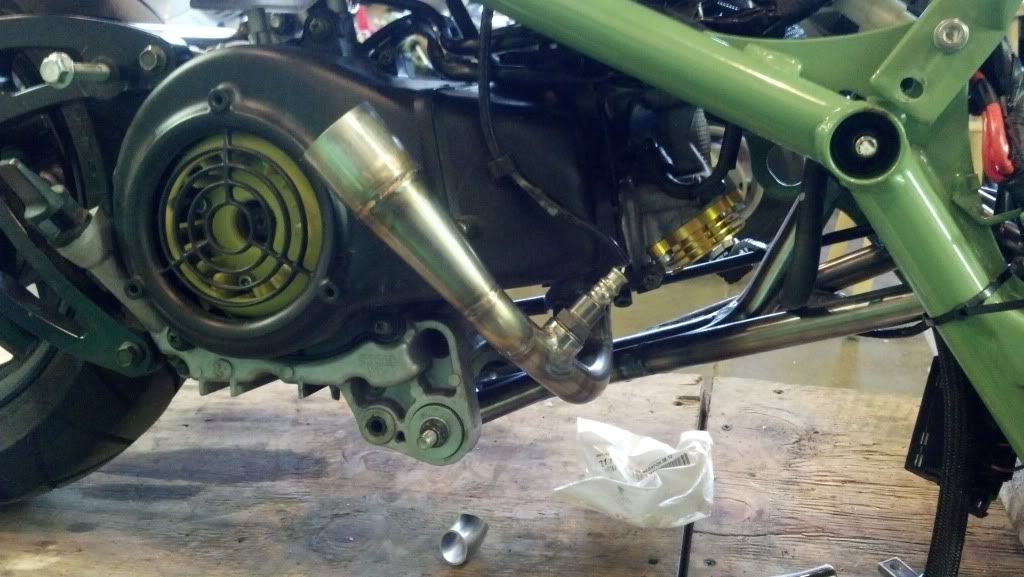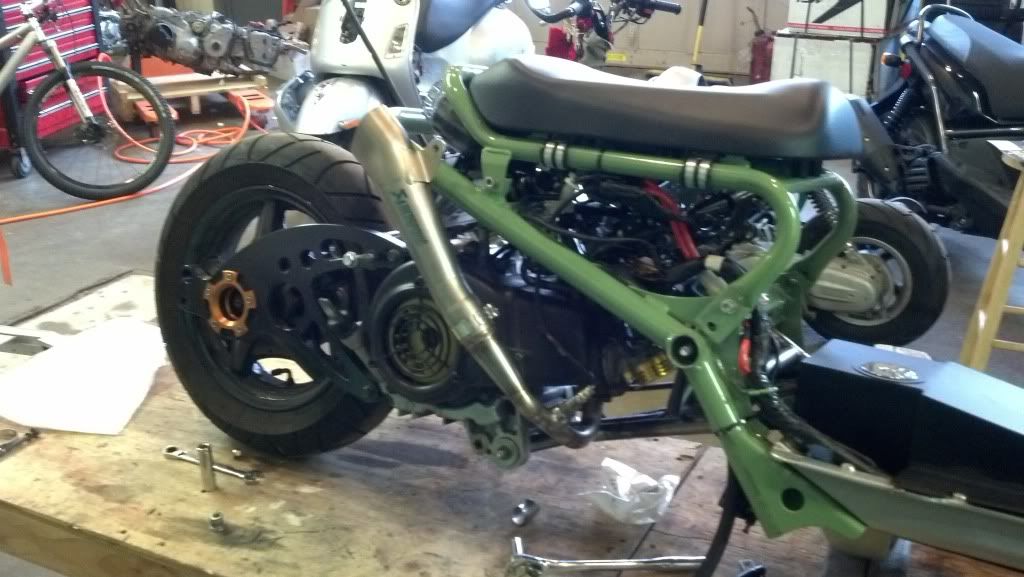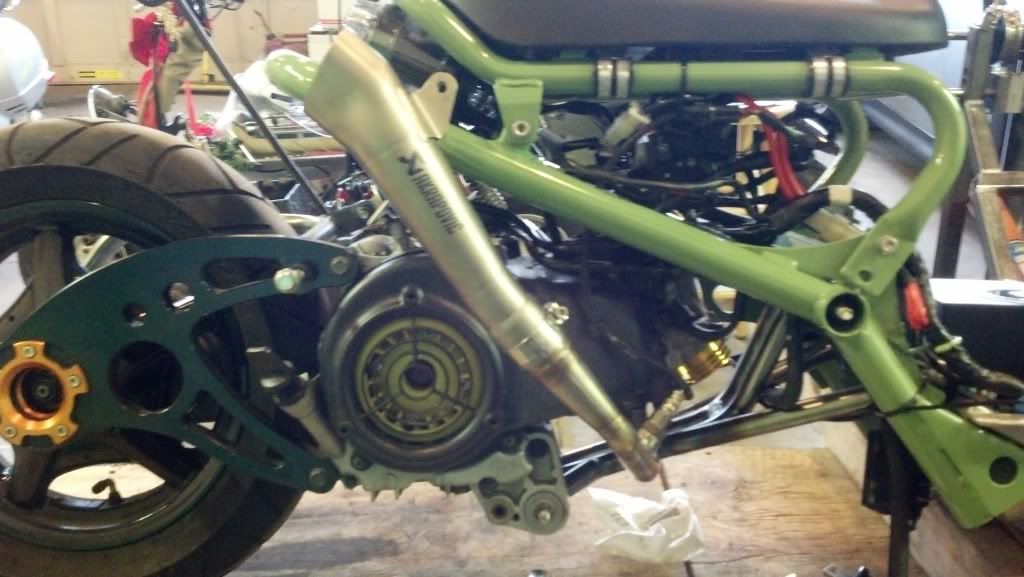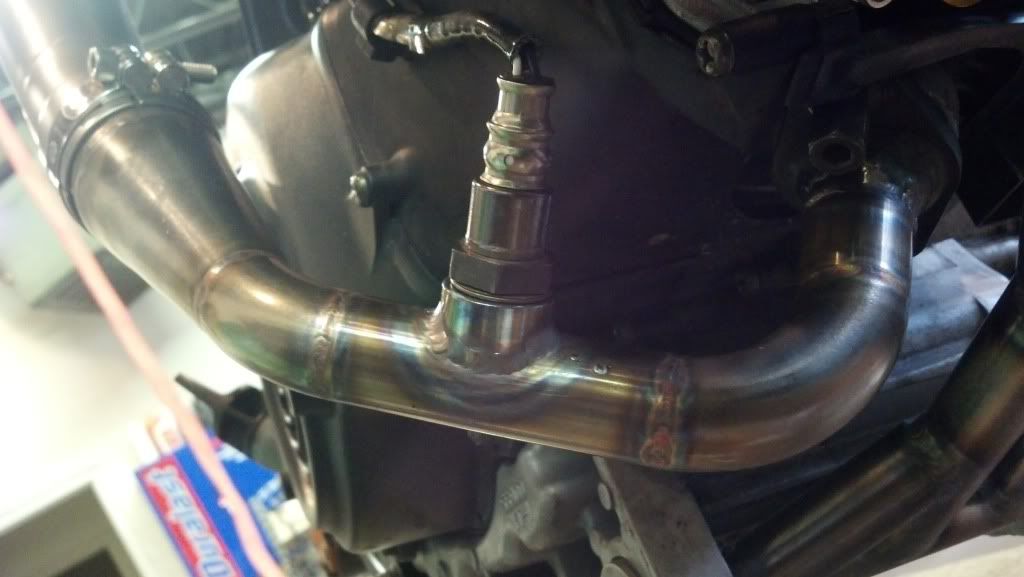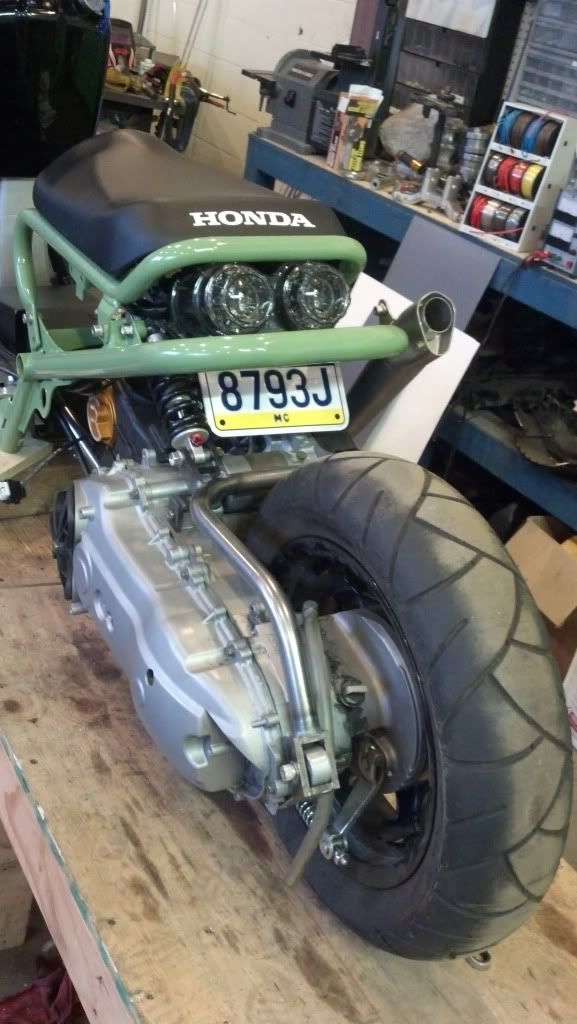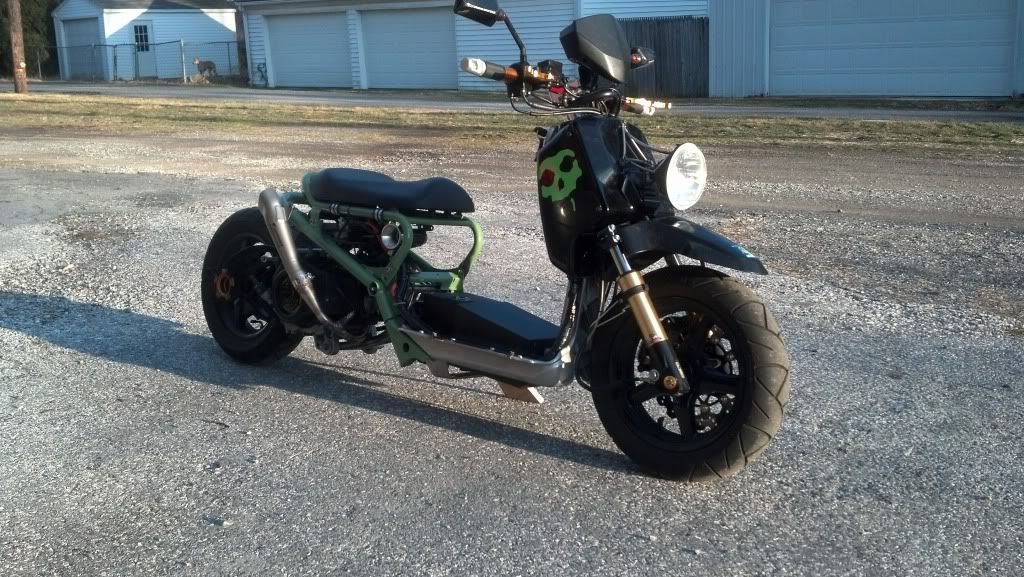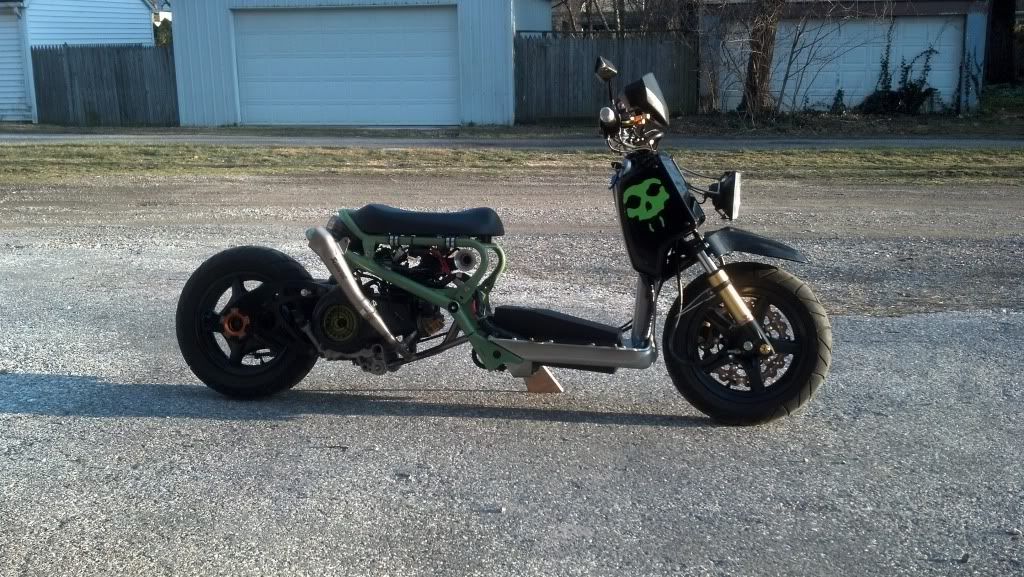 added a set of footies that I had laying around from a test piece for the Z125. I altered the length and add a tab for mounting.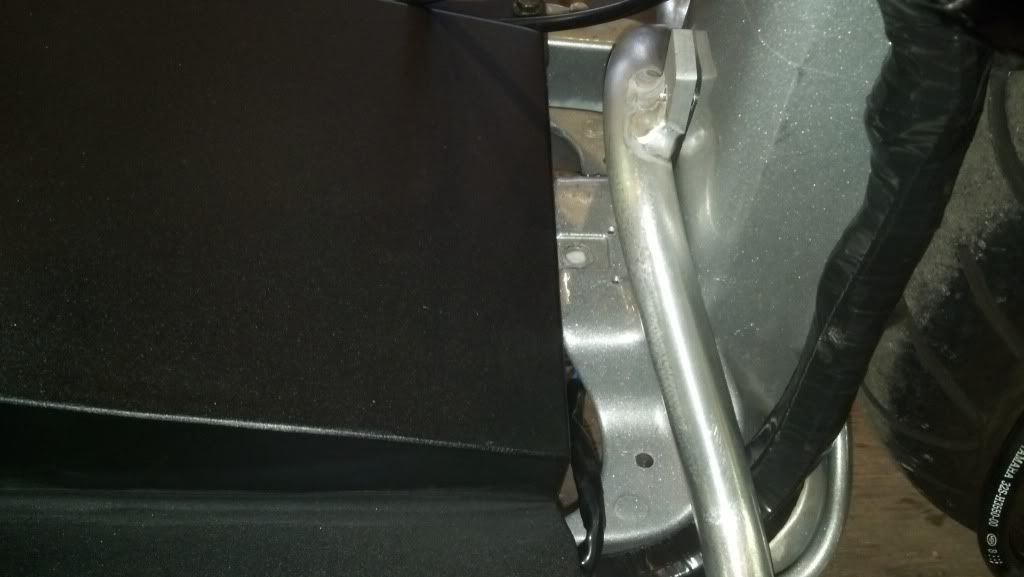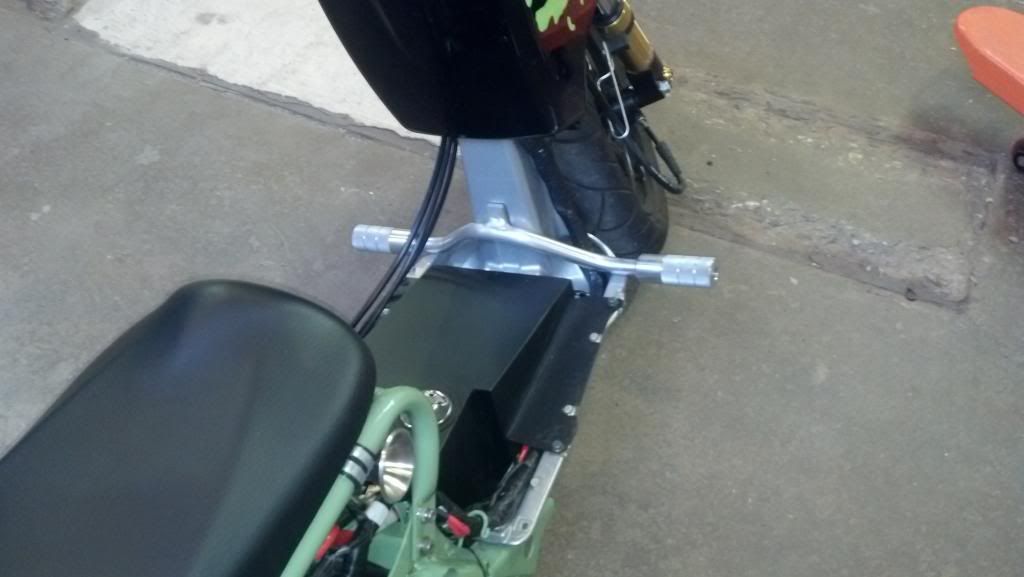 Did the PA Bunny Run on Saturday the 30th of March in it's maiden voyage, the only Ruckus there and 1 of 4 scooters...
parked it next to Mama Bear...hahahaha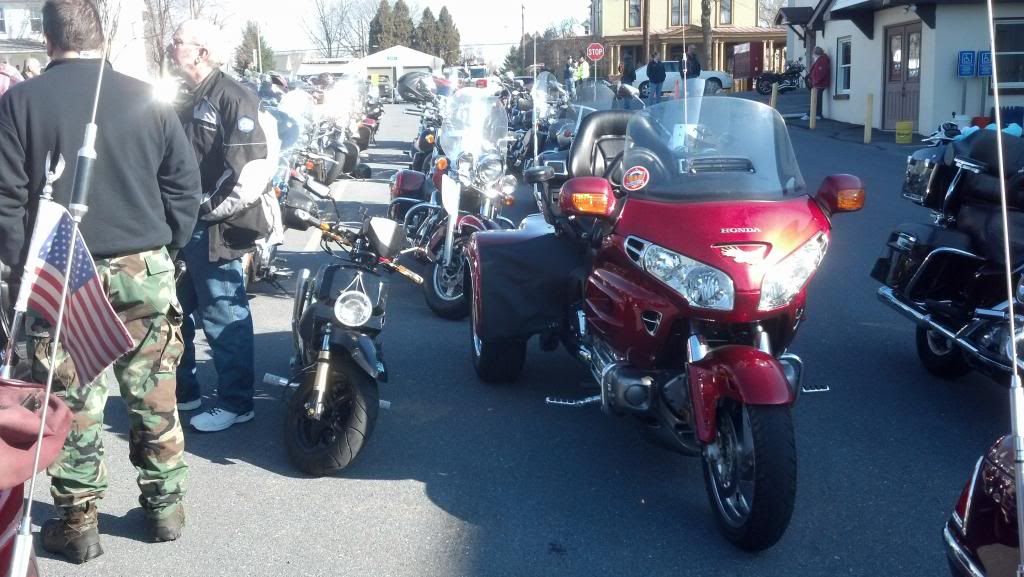 I lined up the rear wheels to see how long of a wheel base I had....almost as long as the Goldwing Trike!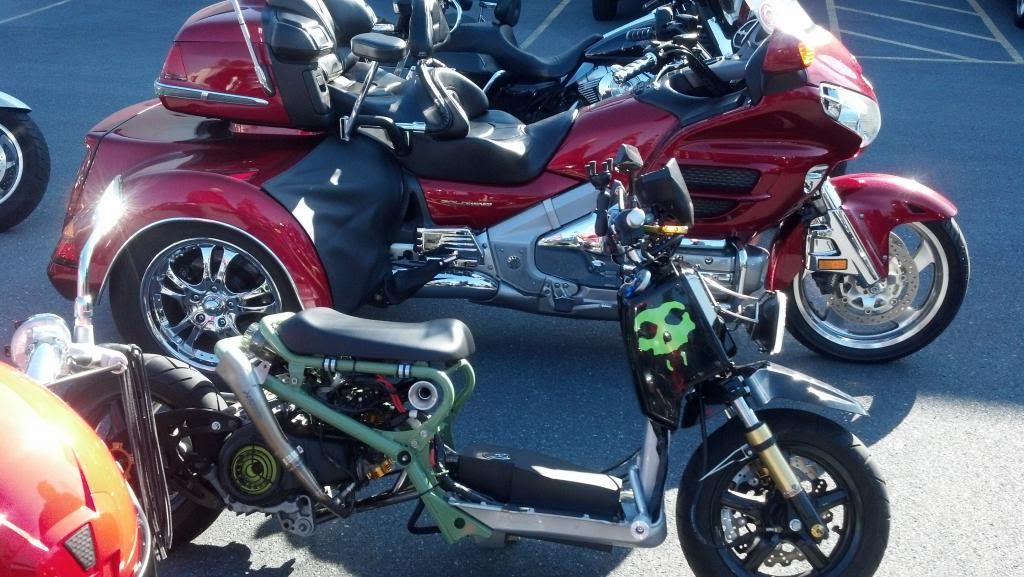 And a pic from the GroPro...it was 28° that morning Video of the run in the next thread...
So I decided I would make a rear fender so I don't get any razz from "The Man"
I cut out my basic shape and started rolling one out on the English wheel.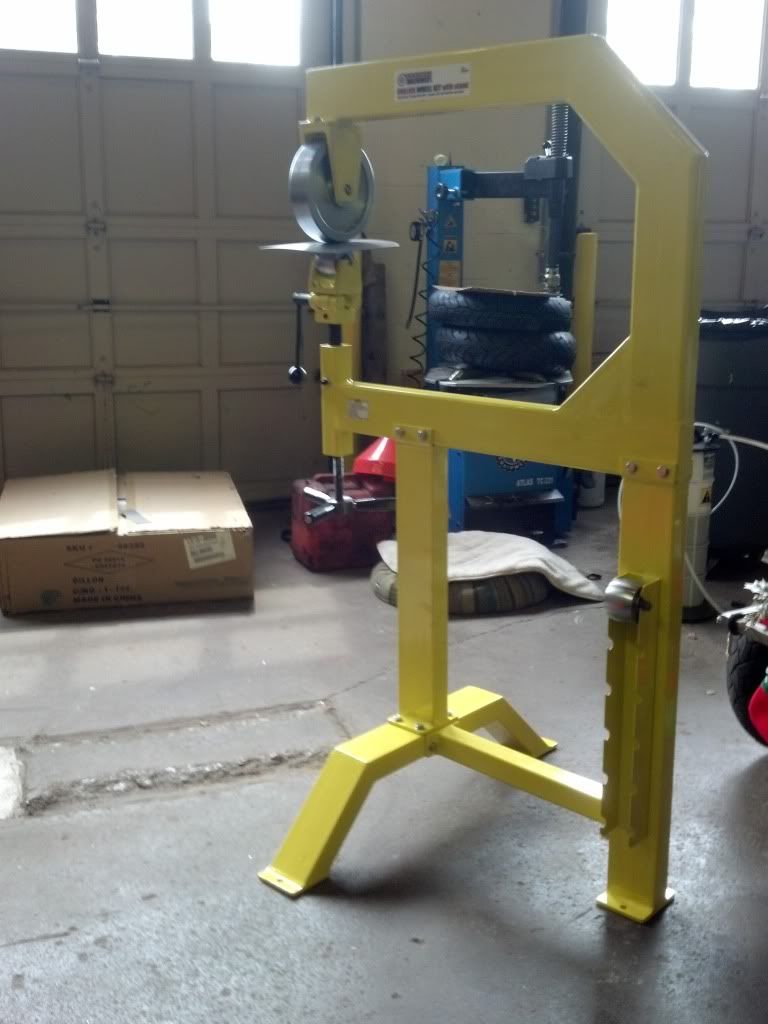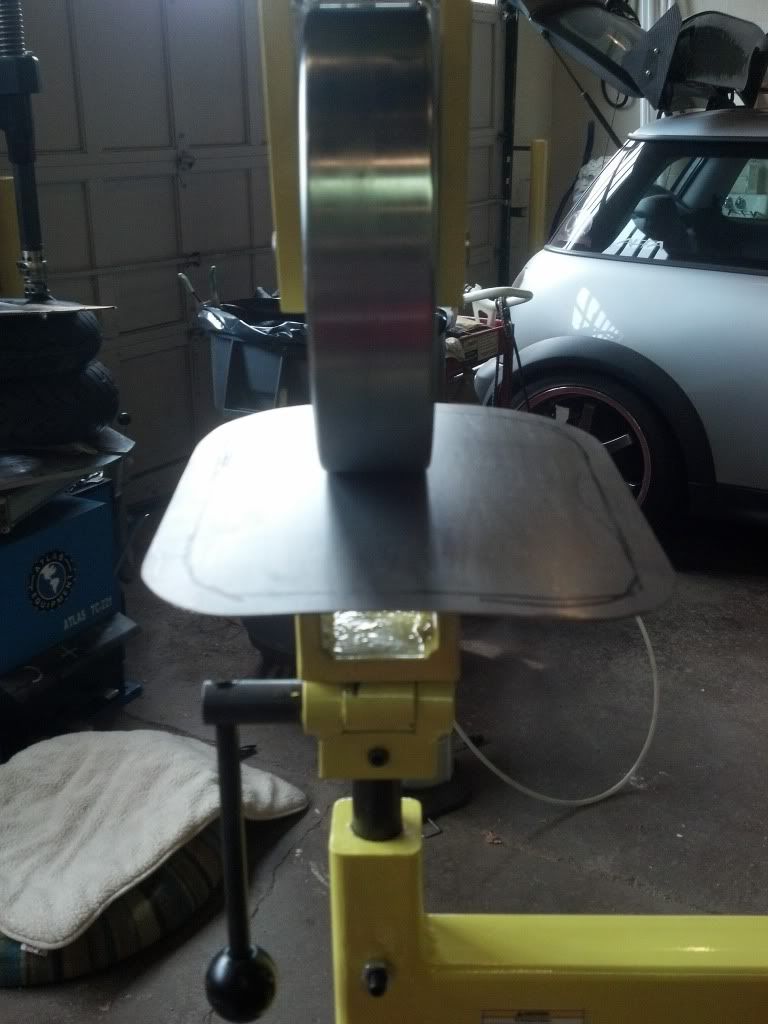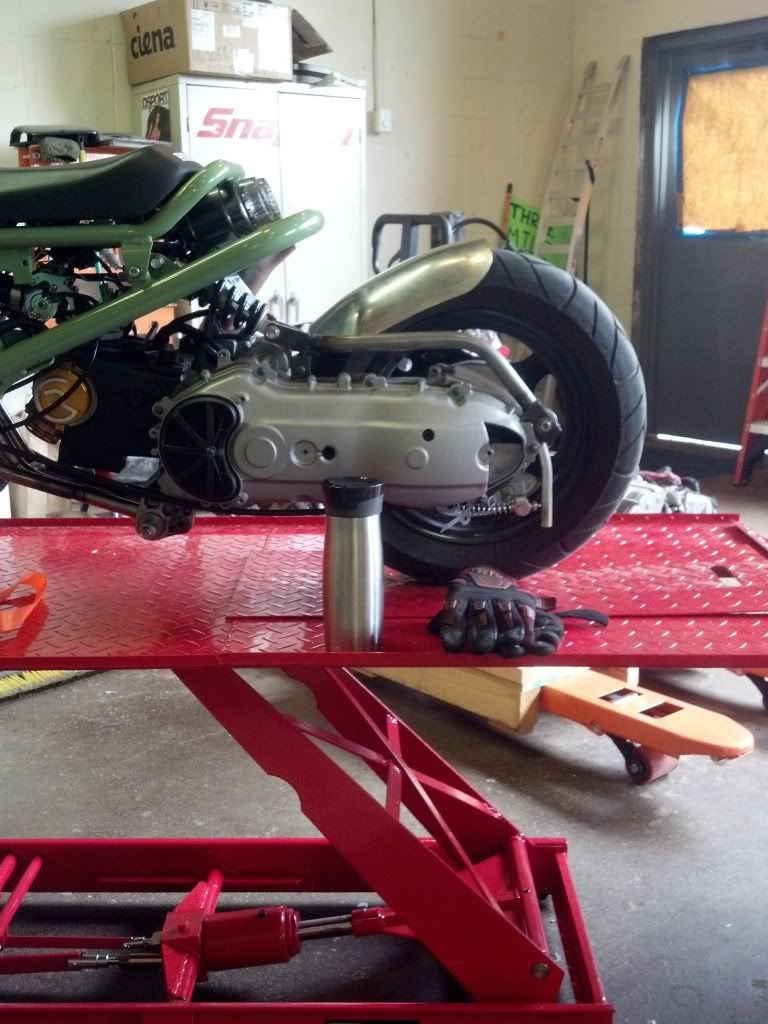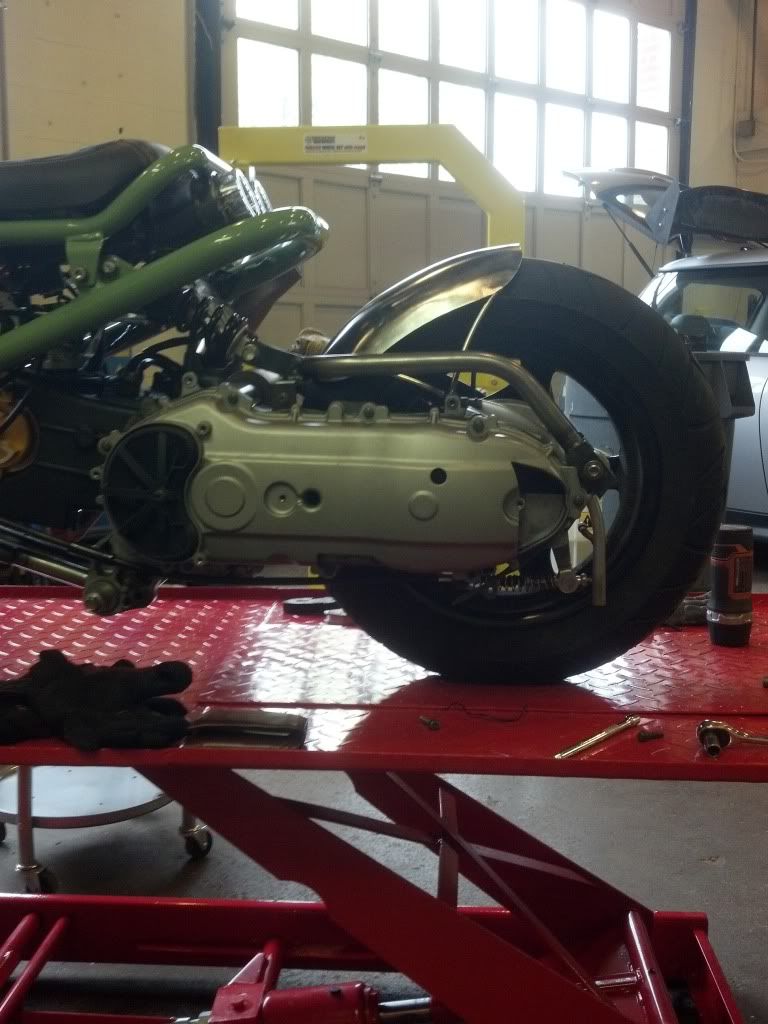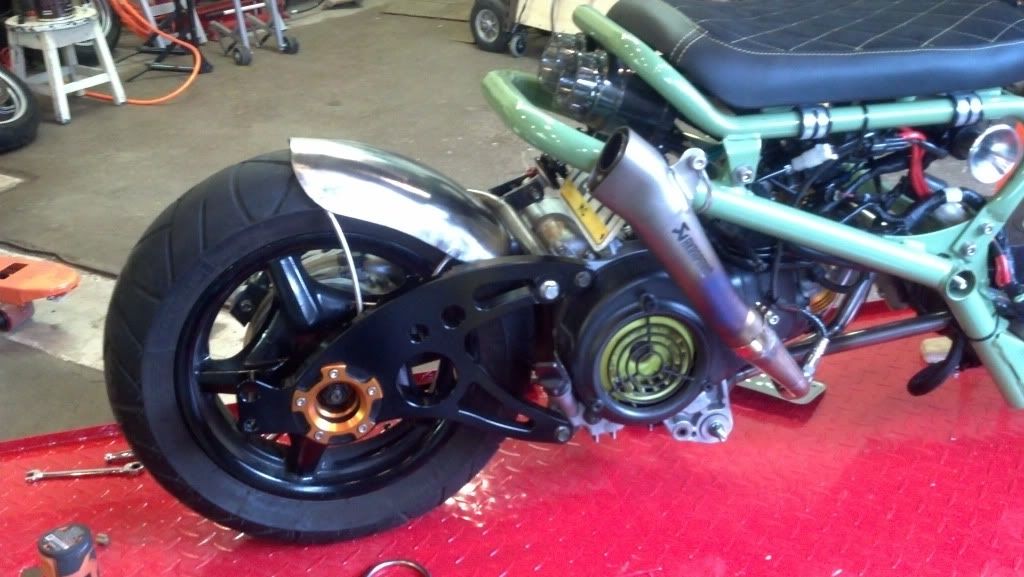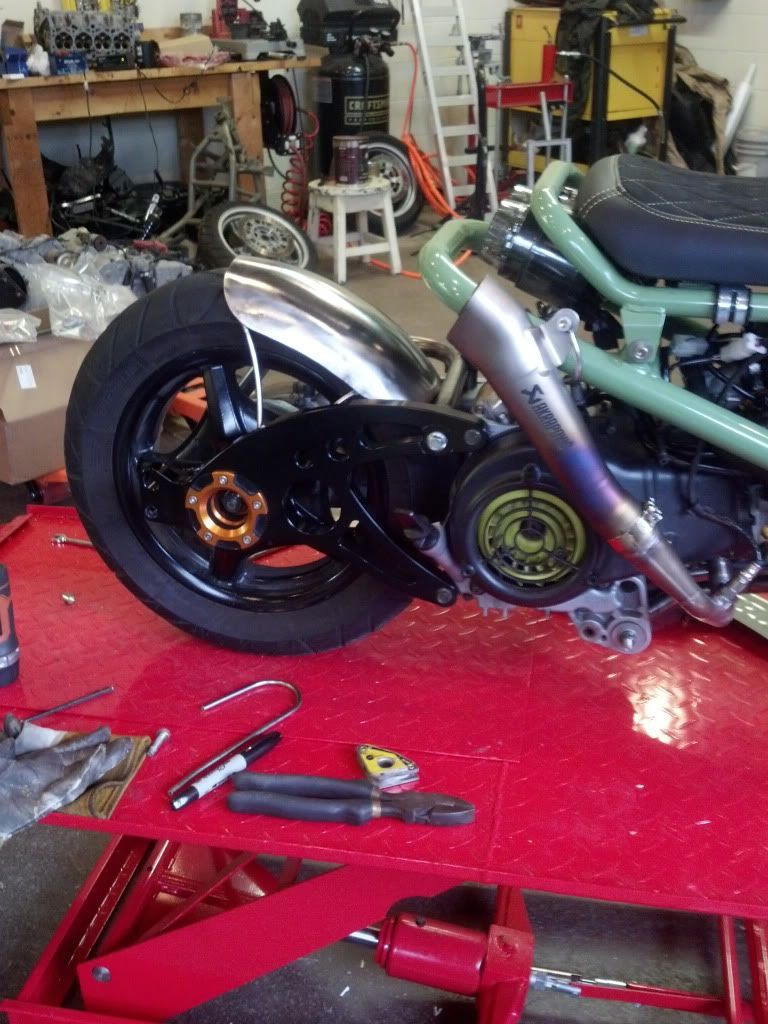 My seat from Cotton came in and it looks Fantastic!
Just a lil pic of both of the Zuma's...lol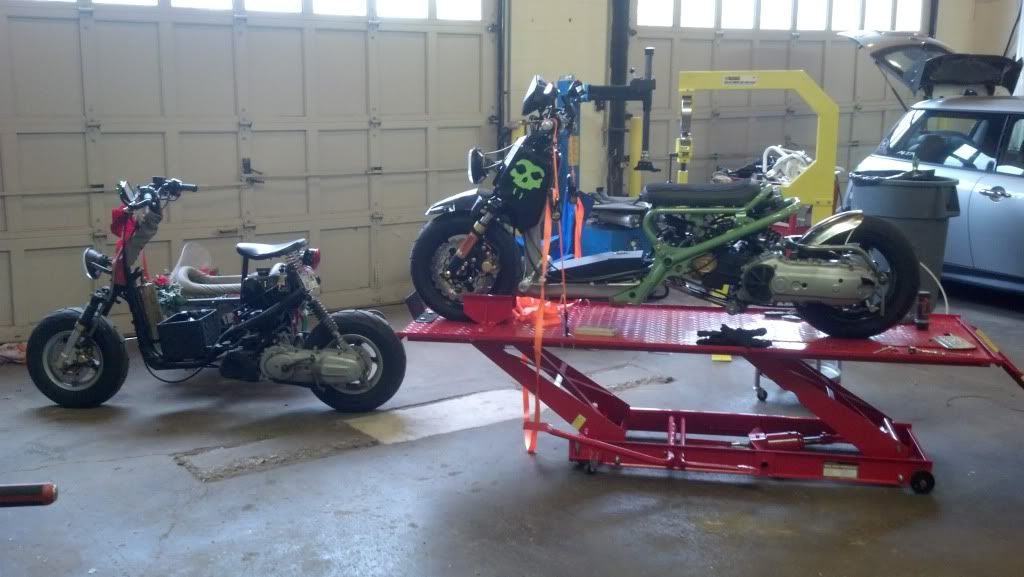 what I use the ugly stock Z125 gauges for....Hat Holder...
I decided to shoot some powder today to avoid getting caught in the rain and having to deal with rust...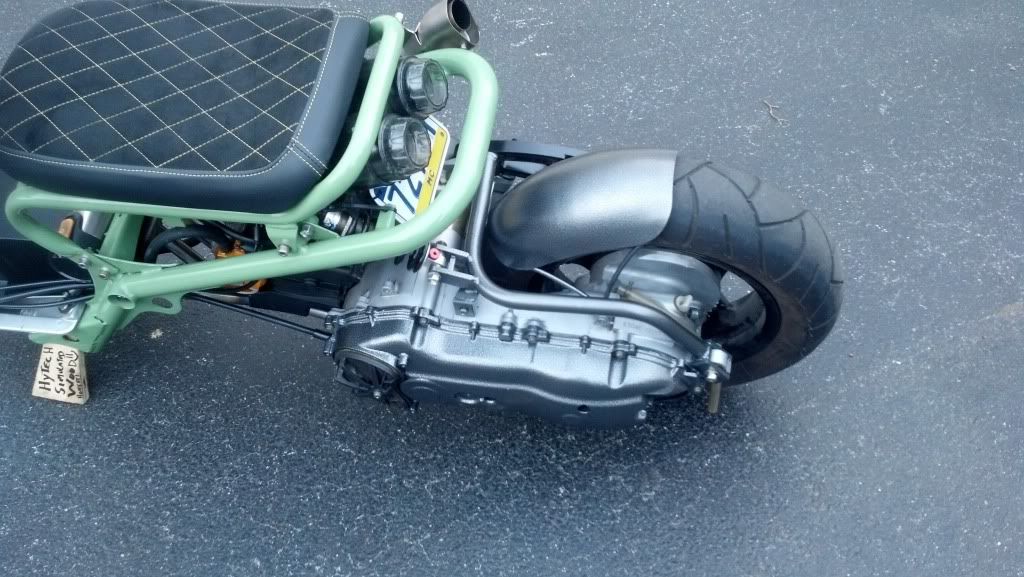 close up of the silver vein powder I shot on the belt cover.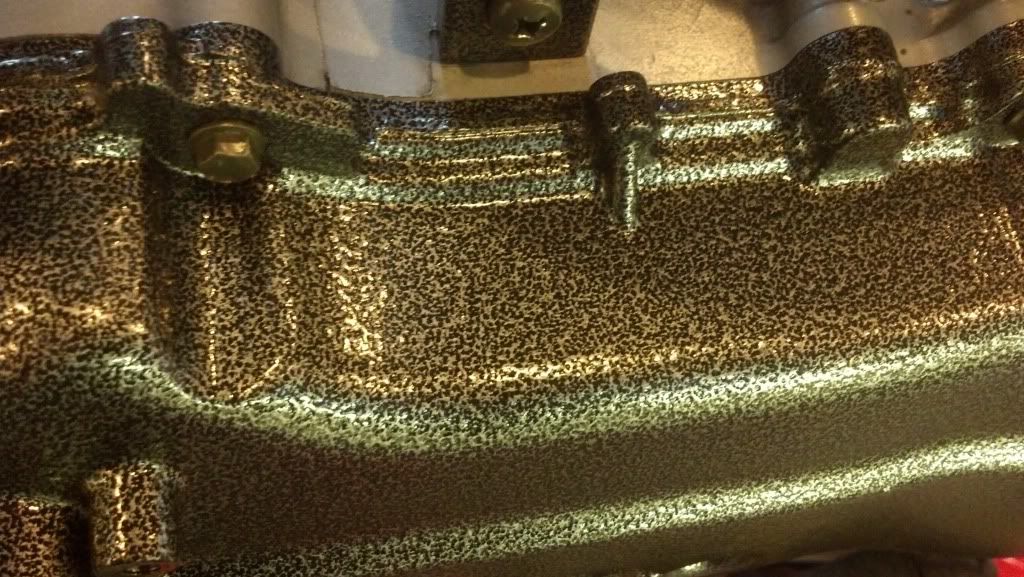 That brings me up to where I am currently at picture wise. I have since done the wiring, but nobody wants to see that, or at least I didn't think anyone would, so I didn't take any pix, but so you know, all i did was lengthen the power leads to the battery box, mounted the tip sensor & lengthened the fuel pump wires, everything else works the way it is.
I did have to rotate the throttle body 180 degrees so it points forward to avoid hitting the rear center bar, but there is no special adapter plate needed to do so. I do need to make longer throttle cables and rear brake cables as they are too short now to tuck under the tank rail. Also my front brake line is to long, so I need to replace that as well. I am waiting on some Red Kote tank sealer to put in the tank before I fill with fuel and give it a test ride.
In the near future I plan to modify the rear frame to clean it up as well as the seat rail, but I didn't want to hack it up yet as I need to build a larger powder coating over to be able to coat it all.
Hope you enjoyed this as it took me a really really long time to make this silly post, well not really as I copied it off my other post on TR and just made a few small edits so it makes more sense, since I keep adding pix to it.
I am now a Vendor of this here fine site as I have made a few highway footbars for the Z125 which just happen to be for sale. I also available to do custom fabrication if you so like. Just PM me if your serious.
Peas for now....
Note not responsible for typographical errors or blurrycam
Made 'n Merica