REBUILDING THE RC SCOOTERS EXTREME 155cc BBK:
After 18,500+ Miles on the RC Scooter's Extreme 155cc BBK I've decided to rebuild the motor due to a noticeable loss of compression. I measured 60psi on a compression test (160-180psi is normal) and a leak down test suggested the pressure was leaking from the intake valves. Turns out my TTMRC Head had the intake and exhaust valves installed in the wrong valve ports. The 58.5mm BBK cylinder walls looked like they were in great condition. I plan on reusing the RC Scooter's 155cc BBK and having the TTMRC Head/Valves machined to correct any damage that may have been done to the valves/seats. Details on the Rebuild can be found in this thread:
http://www.zumaforums.net/phpBB3/viewtopic.php?f=55&t=24461
During the Rebuild, I had a local small engine machinist rework my RC Scooters 155cc 58.5mm BBK (Forged Piston, was using the Thin (0.6mm Dark Gray) Cylinder/Base Gasket, 10w-40 syn oil & 93 Octane) Note: This Cylinder has been Re-Honed (measured by machinist & has only minimal wear) and the Cylinder Deck has been milled/resurfaced for flatness. The Forged Piston has been thoroughly cleaned and has a new Ring/C-Clip/Gasket kit for if or whenever I may need a quick and easy replacement cylinder kit.
I may be interested in selling this refurbished RC Scooters 155cc BBK for $100 Shipped.
I have since decided to install my new in box Taida 58.5mm Cylinder Kit along with a Taida +3.5mm Stroker Crankshaft to upgrade my Build to an Extreme 165cc BBK.
Pending Mods... as of 12-13-2013
Taida King Cam
(New In Box & never installed, For Sale: $90 Shipped)
Most Current Installed Mods... as of 12-13-2013
Motor Related:
Taida 58.5mm BBK (Forged Piston, 10w-40 Syn Oil & 91 or 93 Octane)
Taida +3.5mm Stroker Crank (upgrades displacement to 165cc, hence the need for 91 or 93 Octane, Requires using Thick (1.2mm White) Cylinder/Base Gasket!)
Race Concepts "Racing" Cam
Race Concepts Lightweight Cam Gear
TTMRC Large Valve Head for 155cc BBK's (20.5mm Intake Valves, 19.0mm Exhaust Valves)
SRP 2nd Generation 4-Hole Fuel Injector (Flow Rate 140cc per minute)
KOSO 28mm Throttle Body & Intake Manifold
KOSO High Flow Performance Oil Pump
KOSO Billet Aluminum Oil Pump Cover with Oil Cooler In/Out Ports
Race Concepts Oil Cooler & Aeroquip 300psi Oil Hoses
Custom Oil Cooler Engine-Fan Mounting Plate
MX-Performance Machined Lightweight Flywheel
Race Concepts Lightweight Black Engine-Fan
Ban Jing Heavy Duty Starter Bandix/Clutch
NCY High Torque Starter Motor with custom rewired 8 Gauge Power & Ground Cables
NCY Heat Sink Valve Covers
NCY Heat Sink Dual Port Cam Cover
NCY Direct Fire Ignition Coil
NGK Iridium Spark Plug
ForceWorks Basic ECU/Fuel Controller
Yoshimura TRC-Carbon Fiber Exhaust
Innovate MTX-L Wideband O2 Meter
Dynotune Digital Narrowband O2 Meter (No longer using it)
Simota Performance Air Filter
NCY Oversized Aluminum Intake Pipe (For the air intake box)
Modified Air Intake Box to Open up the Inlet Wider
Ebay Magnetic Oil Drain Plug
Shark Factory Oil Screen/Filter Heatsink Plug
CVT Related:
RRGS Lightweight Variator Fan Face (I dropped & damaged my TST Variator Fan Face)
TST Variator (I also own and sometimes use the RRGS Variator it's my 2nd Favorite)
NCY Roller Weights 9g/11g (I also have 10g/12g/13g rollers and some 11g/12g sliders)
RRGS 1000RPM Contra Spring (I also have a 1000RPM PG Spring and 1500RPM NCY Spring)
KOSO Adjustable Racing Clutch (Perfectly Balanced and Cools Clutch Effectively)
KOSO Machined Steel Clutch Bell (Original In Box Setup with a little Preload on Clutch Springs)
NCY Contra Spring Bearing Kit (Cleaned and Lubed with CRC Silicone Spray)
Prodigy Torque Driver (Using the more aggressive strait slots, and Extreme Pressure Red Grease)
OEM V-Belt (I don't trust the aftermarket v-belts, OEM belts work well enough)
Race Concepts 12/39 Final Gear Set (Best Final Gear Set I've tried yet!, I've tried 13/39 and 12/44 OEM Majesty Gears)
Lighting/Electrical Related:
PGO Digital Gauge Cluster with Oil Temp Sensor Add-On "KOSO RX1N Gauge"
Yamaha OEM BWS "Asian" Headlight Conversion
JohnnyFYX Bi-Xenon HID Projector Retrofit (with CCFL Angel Eye, 4300K H1 HID Kit, Morimoto Mini H1 Hi/Lo Projector)
HID/Headlamp On/Off Override Toggle Switch
BWS Accent Lamp T10 Wedge LED with x15 SMD 3528 LEDs (Upgrading to the T10 x13 SMD 5050 LEDs, for more lumens)
SuperBrightLEDs.com White LED Gauge Cluster Lights (No Longer Needed due to PGO Gauge Swap)
KOSO LED "Afterburner" Tail Lights
Autozone Waterproof White LED Strip and Custom Fabricated Aluminum 90degree LED Mount for Side Mounted License Plate
Autozone Waterproof Red LED Strips x2 for Custom Chopped Clear Plexiglass Trunk Bottom (used for auxiliary brake lights)
DCR-Motor Honey-Comb Embedded Front & Rear LED Turn Signals
JohnnyFYX LED Turn Signal Diode Mod (Fixes all LED Related Turn Signal Issues Guaranteed!!!)
CycleGear LED Turn Signal "Solid-State" Relay (with Radio Shack 90dB Piezo Buzzer 12ma @ 12v)
CycleGear 12v Waterproof Auxiliary Power Jack (Trunk Mounted with USB Power Adapter)
50amp FH012AA MOSFET Voltage Regulator / Rectifier
RMStator.com +20% High Output Stator (Removed it... Not needed due to power conservations mods)
(For Sale: ~2000 miles on it $60 Shipped)
Chassis, Brakes, Tires & Suspension Related:
Michelin Power Pure SC (140 on the rear & 120 on the front)
Modified OEM Forks (Changed Fork Oil to 15w, Swapped in Cygnus OEM Springs, 1.5" Drop)
Lowered Rear Suspension using ComposiMo Rear Upper Shock Mounts (Using OEM shocks)
Custom Swing-Arm Mono-shock with Doppler Air Shock (Currently Not Installed, awaiting fabrication)
8" Custom Stretch Kit by C.A.R. Fabrication (C.A.R. Fab is no longer in business)
Reinforced Fuel Tank Fill Neck (These are prone to cracking at the welds if you stretch the scoot)
Custom Chopped Trunk with Clear Plexiglass (Approx. 4.0-4.5 inch depth)
Corbin Leather Black Carbon Fiber Weave Saddle
Yamaha OEM BWS-X Aluminum Swing Arm (Far superior in strength to the stock steel swing-arm)
Trickle X Highway Foot Bar/Pegs
KillerScooter/BTX Foot Pegs/Bar
(For Sale, $50 Shipped)
ComposiMo Aluminum CVT-Side Mounted License Plate Braket
Zubiku Carbon Fiber CVT Cover
Zubiku Carbon Fiber Gas Cap
Zubiku Carbon Fiber Air Intake Box Cover
Zubiku Fiberglass Rear Spoiler (Wrapped in 3M Di-Noc Carbon Fiber)
3M Di-Noc Carbon Fiber Wrapped Front and Side Panels
RPM 260mm Oversized Rotor
NCY Caliper Bracket for Oversized Rotor
EBC "Green Stuff" Performance Brake Pads
Goodridge Stainless Steel Braided Brake Lines & Fittings
KOSO Speedometer Cable Holder
RRGS Billet Aluminum Black Brake Levers
BGM 22.2mm Matte Black Handlebar (Low Rise/Profile & 25.2" wide, doesn't need cutting/trimming)
Ebay Low Profile Black Mirrors (Generic Made in China product, decent build quality)
Ebay Billet Aluminum/Silicone Black Grips (Generic Made in China product, decent build quality)
GJMS Billet Aluminum Bag Hook
GJMS Billet Aluminum Engine-Fan Grill
TucanoUrbano Termoscud (Winter/Rain Lap Apron, best investment for year round riding!)
Scootr Logic Saddle Bags (Simple Easy to install/remove saddle bags, small compared to most)
Scootr Logic Water Bottle Holder (Insulated bag with draw string and optional velcro mount)
Here's my build thread... Starting off with mostly visual mods, but eventually going BBK hopefully next year sometime. So far most of what I've modded is listed in my signature. But a couple new things will be installed soon, as is the way of the modding addiction.
Most recent addition is the C.a.R. Fabrication Stretch and Doppler Shock from Fred. This stretch is one of the best IMO not only because of the look it has but the quality of the fabrication and the awesome price for what you get. Thumbs up to Fred, the mad scientist!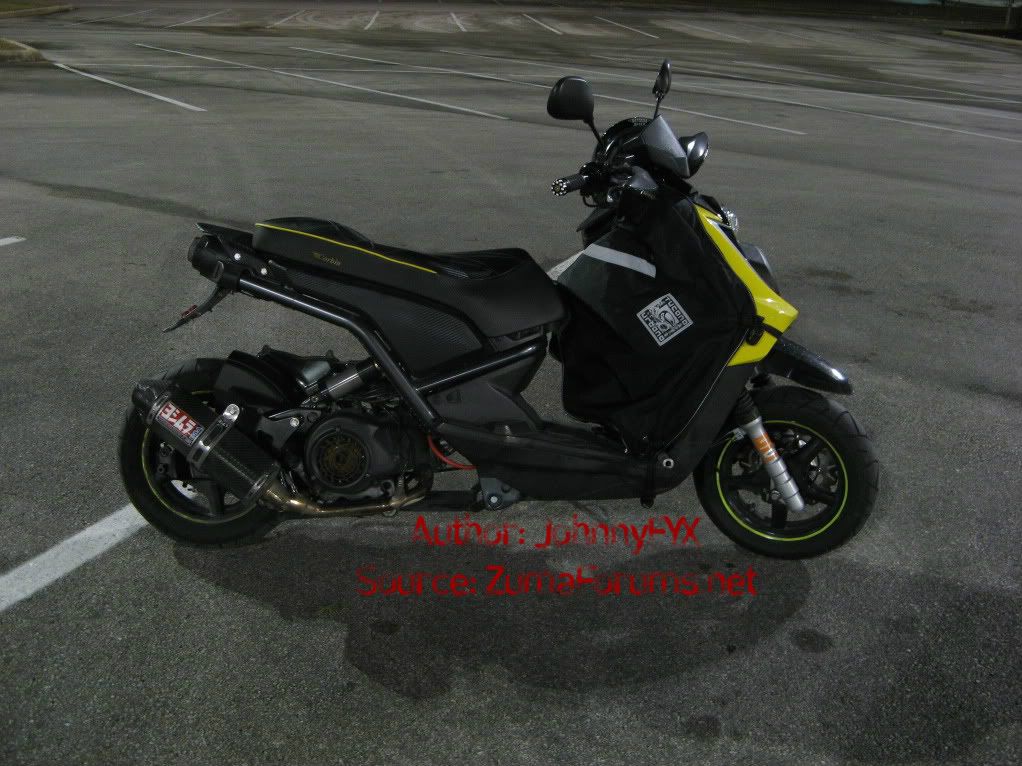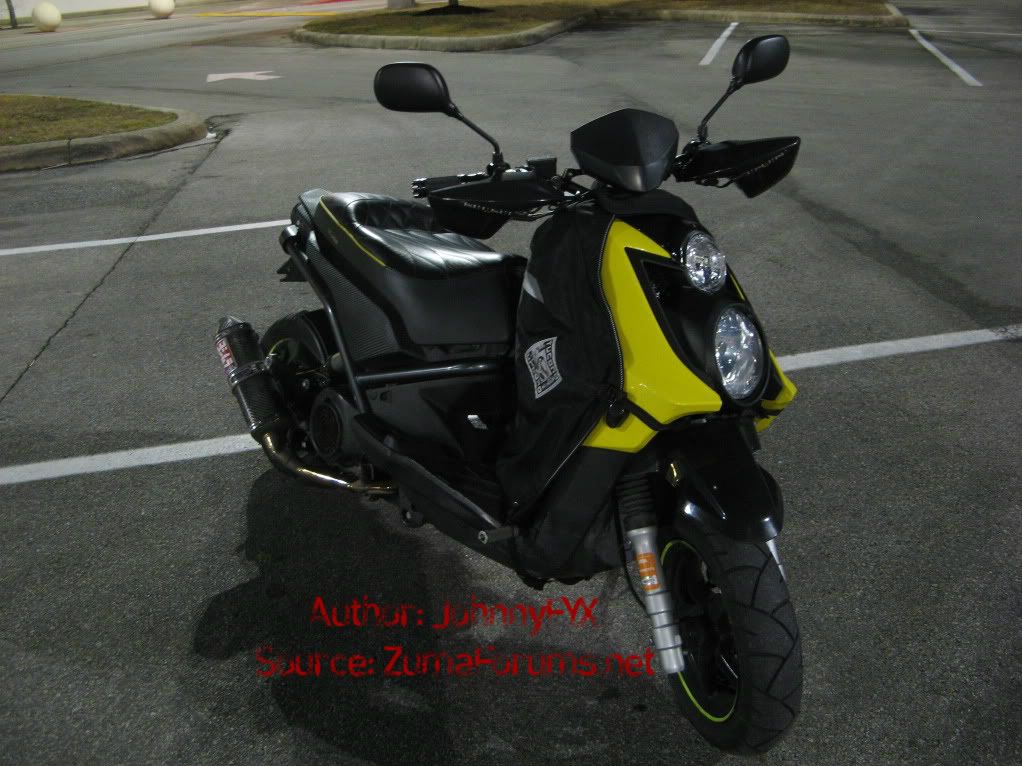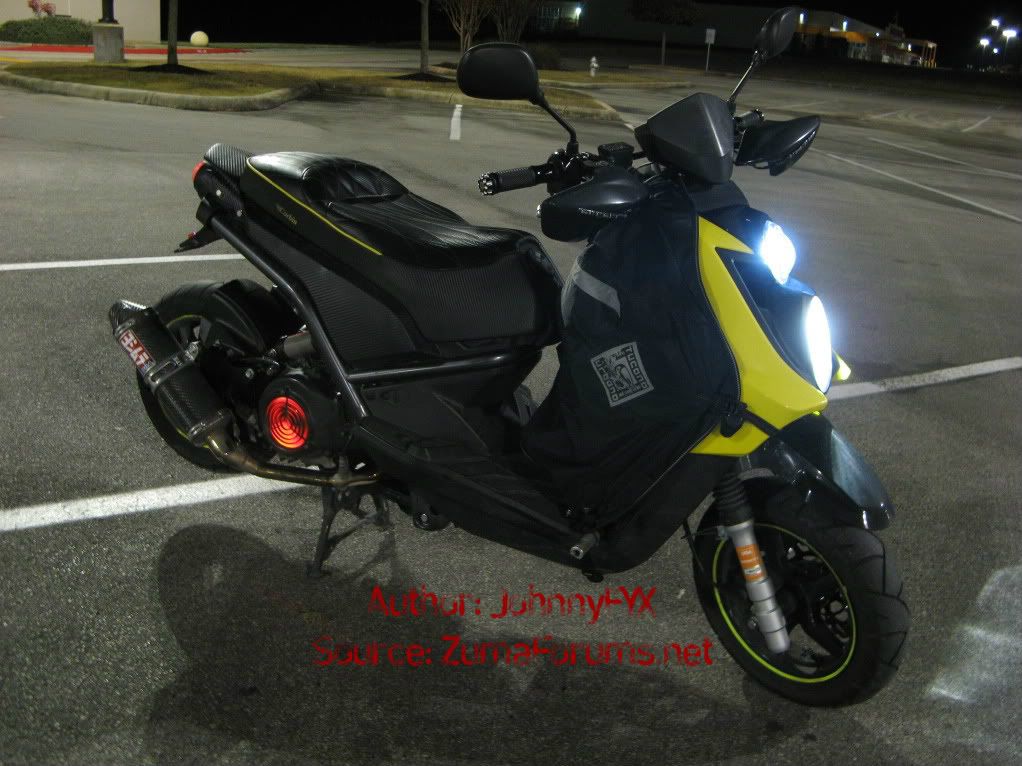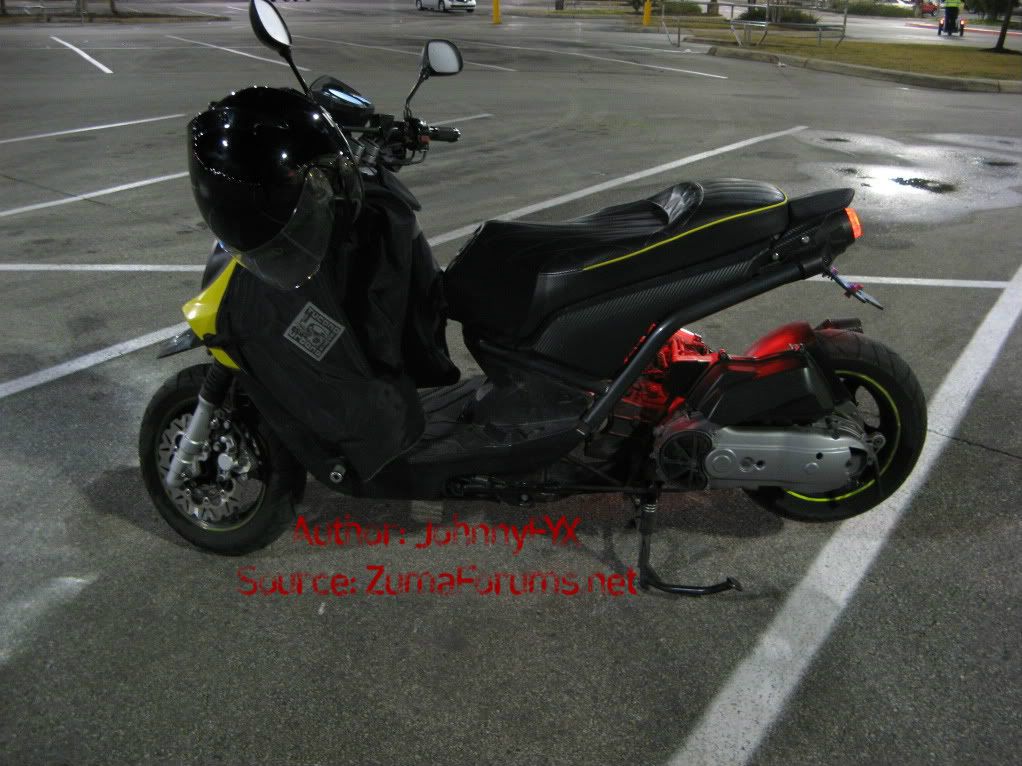 Currently I'm running 160 psi on the Doppler Shock. This is what I'm starting at for now, but I'm probably going to lower it to 140psi next week.
Mods Pending Installation:
Lowering Forks by 8-10 coils
140/70P-12 Michelin Pilot Sport SC rear tire
RRGS Black Anodized Brake Levers
Composimo Vertical License Plate Bracket & Drowsports LED License Plate Lights
Silver Wheel Tape
Silver Yamaha Wheel Decals
Silver Allen Head CVT Bolts
3M Di-Noc Wrapped Front Panel and other parts.
Painting Fan Silver
Removing Brush Guards and Relocating Front LED Signals
Next Mod List Agenda:
Composimo Anklebiter
CVT Red LEDs (to balance the look on both sides of the scoot)
Koso Gauge Cluster (haven't decided which one yet)
13/39 Tooth Gears from Chris @ Raceconcepts
155cc or 164cc BBK from Chris @ Raceconcepts
28mm Throttle body from Chris @ Raceconcepts
4 hole SRP injector from Chris @ Raceconcepts
Juice Box Pro or the Force Works ECU (haven't decided yet)
A/F meter