Unfortunately, this test is a little misleading... the HID Bulb/Ballast was already warmed up from a previous test video that I tried to make while a car alarm went off at the same time... I spared y'all the car alarm nuisance, but unfortunately since the HID Bulb/Ballast was pre-warmed up it didn't draw as much power from the battery as it normally does.
I've seen the voltage drop down to 11.8v-12.1v on the OEM Voltage R/R setup when powering on the HID lighting. I'm not going back to the stock setup, so you'll have to just take my word for it when I say the voltage drop is considerable.
What this video still shows is a minimal voltage drop even after the HID Bulb/Ballast has warmed up. This constant voltage drop when the HIDs are turned on isn't present with the MOSFET Voltage R/R.
OEM (SCR Type) Voltage Regulator/Rectifier (Left) vs. MOSFET Voltage Regulator/Rectifier (Right)
My DIY MOSFET Voltage R/R Mounting Bracket (I don't have a welder, otherwise it would look a little better). I need to trim those two bolts...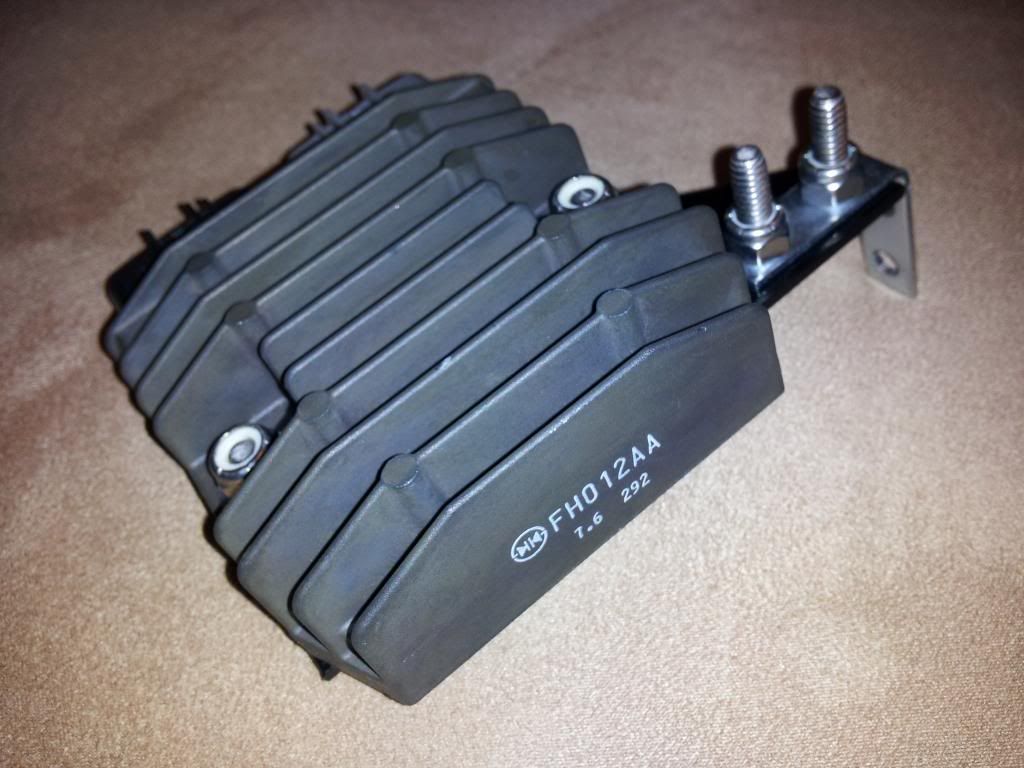 The underside of the MOSFET Voltage R/R & Bracket.
My DIY Wire Harness & the Furukawa QLW .250" Waterproof Connectors... 10awg Red/Black Battery Wires (~24inches long) with MAXI Fuse Holder & 30amp MAXI Fuse and 14awg White 3-Phase Stator Coil Wires (~14inches long). I recycled the OEM Black Harness Connector that connects to the Stator's Wire Harness. All splices, crimps, and connections are soldered and heat shrink wrapped.
My installation location for the MOSFET Voltage R/R.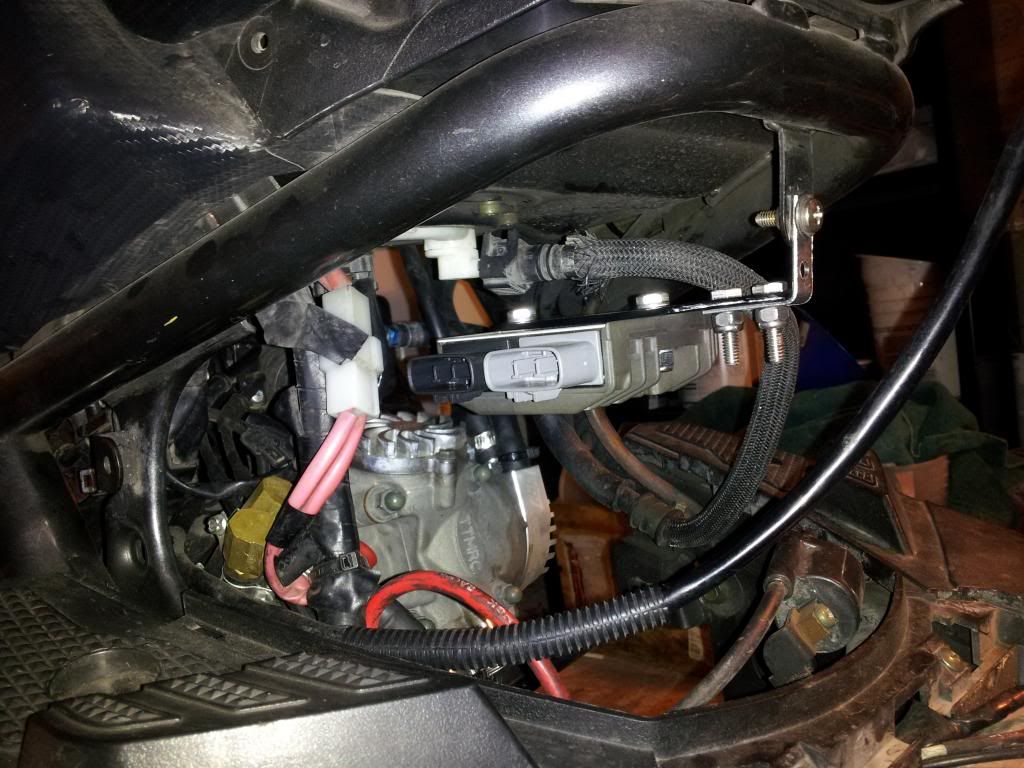 MOSFET Voltage R/R Wire Harness Connected, installation is complete.
I realize in this video I didn't make a complete comparison by also testing with the HID and the Brake Lights & Turn Signals active at the same time. I'll make another video to test the MOSFET Voltage R/R under maximum power draw conditions to see if the voltage drops like the OEM R/R. I did however, expect a much higher voltage reading than what the MOSFET Voltage R/R provided... I was hoping for 13.9v-14.1v from this setup, but it seems that either my OEM Stator is just not producing enough power (it did measure out of spec when I tested the resistance across the coil wires) or it's because I'm using a Lightweight Flywheel/Rotor. There is a considerable amount of metal removed from the Flywheel/Rotor and this may contribute to a weaker power output from the Stator Coil/Rotor assembly. I don't have my OEM Rotor, so I cannot confirm this at the moment. I'm still happy with the results, which show an average increase in the charging system's voltage as well as the voltage consistency even with a higher power draw.
First let me provide a synopsis/overview of why this modification is recommended and why you should avoid upgrading your stator to a high output rewound stator especially if you've conserved power on your scoot's electrical system by swapping out incandescent bulbs to LEDs & HID for your lighting system...
Lately I've been doing some research into our Zuma 125 Charging System. I've had my battles with the Charging System on our scoot for a while and now I know why. The issues encountered with the Charging System on our Zuma 125 is the direct result of having an inferior Voltage Regulator / Rectifier (R/R for short). Our OEM R/R is an older/cheaper design called an SCR (silicon-controlled rectifier). It dissipates any extra power that is not utilized by the scooter's electrical system by shorting out (Shunting) the excess power to the ground and thus generating heat within the R/R. This type of R/R normally runs quite hot after a few minutes of riding... This heat will eventually kill the OEM R/R because it shortens the lifespan of the internal Ground Switching Diodes of the Rectifier.
The purpose of a Rectifier is to convert the AC 3-Phase current to DC so that the scooter's electrical system can utilize the power generated from the Stator & Rotor. The Regulator portion of the R/R simply prevents the battery and electrical system from seeing more than ~14.4v (with no load it is capable of between 14.1v ~ 14.9v) after the Rectifier converts the AC to DC. The issues we have to deal with on our scoot because of the OEM R/R is the inability to charge the battery at idle and at times it doesn't even start to charge your battery until your rotor goes above 4,000-5,000 RPMs. The older the R/R gets the less effective it becomes at maintaining the proper charge voltage due to the heat that the R/R is creating. The heat starts to cause the diodes in the rectifier to become less and less accurate to their original design specifications/ratings.
To give you an example, my 33,500 Mile OEM Stator and OEM R/R produce a wildly fluctuating charge voltage of between 12.7v to 13.8v. If I have my HID headlight turned on, after the HID warms up, I am lucky to get 13.6v and at idle I get 12.8v to 13.4v which means that my battery is not charging and is strictly in maintenance mode (similar to a trickle charger's voltage when it's in maintenance mode). I've read on the forums that fairly new stock Zuma 125's typically have a 14.1v Charging voltage, so I'm sure my OEM R/R is already showing signs that it may need to be replaced soon. Eventually the Rectifier will fail with the diode switching circuit permanently switched open (this can cause your battery to boil over thus killing the battery and potentially frying various electrical components including your ECU), or the rectifier might fail with the diode switching circuit permanently switch closed (this would cause your battery's charge to quickly die from a non-existent recharging system).
HIGH OUTPUT REWOUND STATORS COMBINED WITH POWER CONSERVATION MODS:
Another issue we have to deal with is the affects of reducing the electrical load on the charging system. The stator/rotor and the R/R are designed to work within the stock electrical load specifications. I personally have been a strong advocate for reducing the load on the stock electrical system by switching to LED's, HID Lighting, etc... I've also purchased a Rewound Stator from RMStator.com that is capable of increasing the stator power output by 20% over the OEM Stator... RMStator.com even provided me with a higher capacity voltage R/R to work better with the new stator. Here's the important part to consider, if you're not utilizing the extra power produced by the stator, then the charging system is forced to shunt that excess power in order to keep the electrical system within normal operating limits. The problem with this is all that excess power creates excess heat when it's being shunted (grounded/shorted out). The excess heat will reduce the lifespan of your R/R.
This is the exact reason why my High Output RMStator.com rewound stator prematurely fried the R/R that was provided by RMStator.com. The R/R that RMStator.com provided simply overheated and the internal components swelled up and split apart the potting compound. When this R/R fried it failed in the Open Switched State and nearly destroyed my battery and other electronic components. Thankfully I immediately noticed something was wrong when my gauge lights started acting weird and also when my Signal Dynamics Heads-Up LED Voltage Monitor™ started flashing Green indicating that the voltage was above 15.1v... I swapped out the RMStator.com R/R and the high output rewound stator for the OEM R/R and OEM Stator. I noticed a huge improvement in the charging system, so I've kept it this way ever since.
The lesson learned here is that you should only choose to upgrade your stator to a rewound high output stator if you absolutely cannot maintain your battery's charge on the OEM stator after you've added additional permanently wired in electronic accessories. Otherwise, you'll be overworking your R/R and this will lead to it's premature demise. My RMStator R/R only lasted a few months at best. The RMStator rewound Stator is still good, but I don't ever plan on using it. It's for sale if anyone is interested in it... I just recommend that you choose to also install a 50Amp Mosfet R/R to properly rectify/regulate it's power output (and only use this stator if you absolutely need the extra power capacity due to added electronic accessories).
OEM STATORS & OEM R/R COMBINED WITH POWER CONSERVATION MODS:
So, you might be curious if this issue can occur with the OEM Stator & OEM R/R after you've swapped over to LEDs or HID to conserve power... Well the answer to this question depends on how much power you are actually conserving over the stock electrical load. If you're conserving too much power than your OEM R/R will likely heat up more than normal. Most standard (older shunt type) R/R's have a thermal limit (about 140ºF) that once reached it starts to degrade the electrical components inside the R/R. If you can attach a thermal probe to the R/R and monitor your R/R's temperature, then you can get a better idea if you're straining the OEM R/R because of your power conservation mods. The unfortunate issue is that the longer the R/R is operating near the thermal limit the more it degrades the diodes, which in-turn causes them to continue to operate near that temperature extreme to the point where they eventually fail. The fact that there isn't a direct flow of cool ambient air across the OEM R/R since it is stuck behind the front headlight cover means our R/R is going to be more susceptible to overheating. What I can say for sure is that my OEM stator and OEM R/R so far have lasted far longer than the RMStator upgraded Stator & R/R when combined with my Power Conservation Mods (LEDs & HID Lighting). In fact they have yet to actually fail; however, I'm still convinced that swapping the OEM R/R for a more efficient & more reliable Mosfet R/R would be the wise thing to do whether or not you've installed Power Conservation Mods!
THE SOLUTION... A MOSFET VOLTAGE REGULATOR / RECTIFIER:
To increase your charging system's reliability and longevity it is recommended that you swap out your OEM voltage regulator / rectifier for a modern & efficiently designed Mosfet R/R. What does Mosfet mean??? It's actually an Acronym that stands for Metal–Oxide–Semiconductor Field-Effect Transistor. A Mosfet is basically a transistor that performs the same switching functionality as the older standard shunt R/R's diode switching circuitry, but in a much faster and more efficient way. While a Mosfet does generate heat, it tends to generate far less heat than the older diode switching circuitry. This is because a Mosfet spends more time switched off aka not in Shunting mode vs. time spent actually shunting the current aka diverting current to the ground.
Most Mosfet R/R's are the OEM R/R's for high end Sport Bikes and Motorcycles from Yamaha/Kawasaki/Honda/etc... The manufacturers don't install the Mosfet R/R's on cheaper model bikes because of cost cutting/profit margin reasons. So what's the price difference between a Mosfet R/R and our OEM R/R??? Most Mosfet R/R's are priced as a complete kit (with a new wire harness & connectors) for about $120-140 vs. the OEM R/R for about $60-70. However, you can piece together a gently used Mosfet R/R from ebay and a new Mosfet R/R Wire Harness Kit for about $70-80, which is comparable to the OEM R/R Price Range.
So what makes the Mosfet R/R more efficient and more reliable than our OEM R/R??? The Mosfet R/R is technically more efficient and faster at switching/grounding/shunting the excess power produced by a 3-Phase AC stator such as the one on our scoot as described above. This produces far less heat than our OEM R/R, and in fact you could actually touch a Mosfet R/R after 30 minutes of riding the scoot and not get burned compared to our OEM R/R. A Mosfet R/R also has an over heating fail-safe feature that allows it to temporarily shut off to cool down the R/R (this is like physically disconnecting the stator from your charging system and running purely off the battery). A Mosfet R/R is so robust in it's design that it will most likely outlast your scoots lifespan before needing replaced.
Another big benefit over our OEM R/R which is rated for 25amps is that many of the Mosfet R/R's are rated for 50amps. They are capable of handling power loads of twice the capacity that our scoot would normally produce and this further increases the reliability over our OEM R/R. The Mosfet R/R is also a bit more precise with regards to maintaining a stable and correct charging voltage for the battery from idle RPM all the way up to maximum RPM whereas the OEM R/R tends to fluctuate more wildly under various RPMs. This allows you more reliability for your battery's charged state and the battery's lifespan. In some cases, it may even allow you to charge your battery while the motor is idling (depending on your power conservation modifications).
HOW TO KNOW THE DIFFERENCE BETWEEN A MODERN MOSFET R/R & THE OLDER TYPES OF R/R:
So you want to purchase a Mosfet R/R but don't know how to tell the difference between a Mosfet R/R and all the other older design types of R/R... The quickest way to tell the difference between a Mosfet Shunt R/R and a Standard Shunt R/R is the label that is stamped on the side of the R/R. Almost all R/R for motorcycles, scooters, ATVs, Powersports vehicles etc... are manufactured by Shindengen this includes both Mosfet R/R's and Standard Shunt R/R's. If the R/R you're looking at buying has a Stamped Model # that starts with an "SH" like in our case the OEM R/R has a model # of "SH34OE-17"... the "SH" means it's a Standard "SH"unt Type of R/R. If the R/R you're looking at buying has a stamped model # that starts with an "FH", then it is a Mosfet R/R. An example model # would be like the latest version of the Shindengen Mosfet R/R with model # "FH020AA" or the previous version "FH012AA". The "FH" at the beginning of the Model # stands for mos"F"et s"H"unt and the numbers and letters that follow the first two characters represent the design version # of the R/R and the housing design/wire connector type/format. Really the only thing you need to be concerned most with is that the First 2 characters of the model # are an "FH". Any Mosfet R/R that has a capacity of 25amps or More will work perfectly for our Zuma 125. If you chose to use a Mosfet R/R with a higher capacity of say 50amps it will simply be more reliable when used for our application because it would never see power above 25 amps since that's the maximum capacity of our OEM R/R.
Here's some example pictures of the stamped Model #'s you might see on ebay and elsewhere of a Standard Shunt R/R and a Mosfet Shunt R/R... If you don't see the stamped model #, then I suggest finding another R/R that has the correct model #.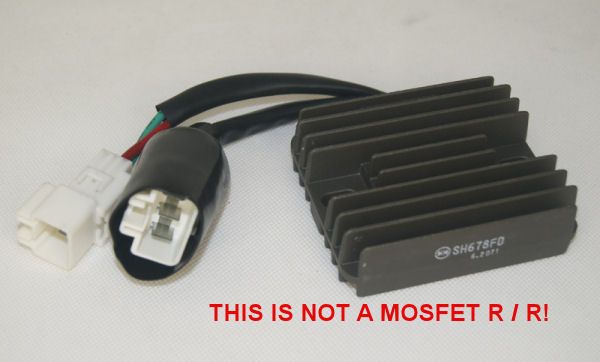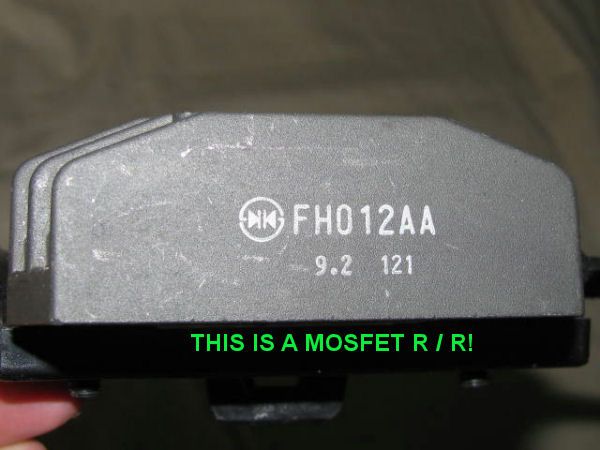 WHERE TO PURCHASE A MOSFET R/R AND THE WIRE HARNESS CONNECTORS OR MOSFET R/R KITS:
Most people choose to purchase a Mosfet R/R through Ebay.com or Mosfet R/R Kits through one of two websites...
http://www.roadstercycle.com/
or
http://www.easternbeaver.com/Main/main.html
What I did to save some cash on this project was to find a gently used OEM Mosfet R/R from Ebay.com that had pictures showing the correct "FH" stamped Model#. The one I purchased was listed as "R1 07 Regulator Rectifier YZFR1 YZF-R1 08 Y72" for $48 Shipped and had pictures showing the stamped model# "FH012AA". This is actually one of the most popular types of Mosfet R/R's on the market... there is a newer and nearly identical version of this Mosfet R/R with model# "FH020AA". If you ask the ebay.com sellers if there Mosfet R/R will work with your scoot, then more than likely you will always get "NO" as an answer. The reason for this is because the Mosfet R/R's are not an OEM Part for our Scoot. Does it mean that it will not work for our scoot??? Of course NOT!!! Sure the Connectors are uniquely different from our OEM R/R and the maximum rated capacity will more than likely be higher than our 25amp OEM R/R and that is a good thing for increased reliability/longevity of the Mosfet R/R.
All that's required is for us to get proper replacement connectors for the Mosfet R/R and crimp on new wires to hook up to our existing 3-Phase Stator wires and battery terminals. Everything else about the Mosfet R/R is 100% compatible with our scoot. If you plan to get the new Mosfet Wire Harness Connector Kits from the webistes I listed above, then you'll need to find a Mosfet R/R that has one of these two model #'s (FH012AA or FH020AA) there are some older versions of this type of Mosfet R/R; however, they are harder to find and are a little more bulky than the newer versions.
So now you have your parts & wiring components... How do you wire it up???
Simply follow this easy wire diagram: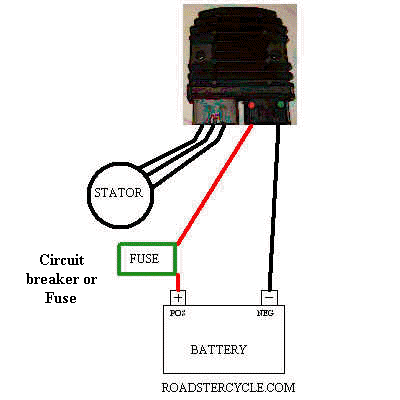 The 3-Phase AC Wires that are on the OEM stator are the x3 White Wires that go to a x3 PIN Black OEM Connector... Simply cut off the connector and solder/crimp/heatshrink new 14 Gauge Wires of any color you choose to extend the wires to wherever you mount the Mosfet R/R (White Wires would be a nice touch). Crimp the wires to the new Gray Mosfet Wire Harness Connector make sure to install the water proofing wire seals on the wires before crimping the spade connectors. It does not matter which of the x3 wires goes to a specific spade connector there is no polarity, so the order/pattern/location of the wires to each PIN does not matter as long as all 3 White Wires from the Stator go to the new Gray Mosfet R/R Connector.
The Black Mosfet R/R Connector is crimped to new Red (+) and Black (-) 10 Gauge Wires that are routed directly to the appropriate (+) and (-) Battery terminals. To ensure that the circuit is safe, you must place an In-Line "Maxi" (Large Type) or "ATO"/"ATF" (Medium Type) 30Amp Fuse no more than 6-8 inches from the (+) Battery Terminal on the new Red (+) Mosfet Wire. I suggest using a waterproof in-line fuse holder. Do Not use the "Mini" (Small Type) Fuses for this application due to the amount of current passing through this circuit it will cause the "Mini" Fuses to heat up due to resistance across the smaller fuse blades. It's best to solder and heat shrink your wires even if you crimp them to ensure a long lasting reliable and weather resistant wire harness.
So what do you do with the old OEM R/R harness connector??? This harness connector is still technically connected to the Battery's (+) and (-) terminals, so I would advise you to simply use electrical tape to cap the end of the OEM R/R wire harness connector and tuck it out of the way. You will need to remove the OEM R/R from the scoot or at the bare minimum disconnect it from the wire harness connector. If your OEM Stator eventually dies whenever it wears out, then you will have to cut the x3 Stator wires where you soldered them to the Mosfet R/R harness and resolder the wires to the new Stator's 3-Phase AC White Wires (and again, the 3 White Wires have no specific order or placement when wiring them up to the Mosfet R/R harness). If you choose to go the extra mile, then you could salvage the OEM Male x3 PIN Black Connector that normally connects to an unaltered OEM Stator Wire Harness... simply cut the connector away from the Main Scooter Wire Harness leaving enough room to solder the Mosfet Wires to the OEM Stator Connector's clipped wires and heat shrink the solder points to keep it weatherproof. This would prevent the need to do more soldering in the future when a Stator Replacement is necessary. That's it, your done and on your way to a reliable Charging System!
Referenced Websites/Forums:
http://www.superhawkforum.com/forums/knowledge-base-40/mosfet-regulator-rectifiers-why-how-25117/
http://www.rc51forums.com/forums/showthread.php?t=6540
http://www.stromtrooper.com/maintenance-how/60842-how-install-mosfet-regulator-rectifier.html
http://www.vstrom.info/Smf/index.php?topic=12507.0
http://www.roadstercycle.com/
http://www.easternbeaver.com/Main/main.html